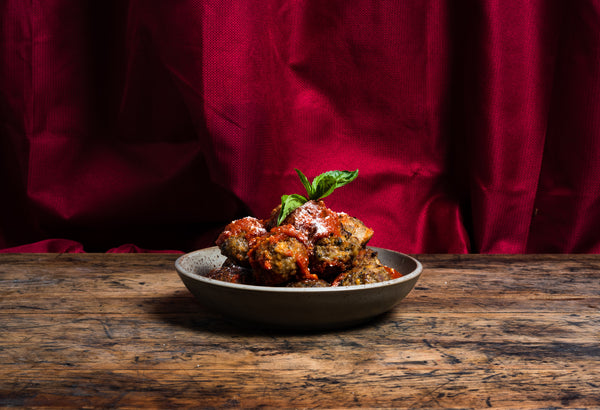 A Million Ways to Make a Meatball
I love meatballs. They are tasty and there is a hint of nostalgia to them. But more importantly they are easy to make and can take on any flavor profile you desire. I often cook up a big batch and toss in the freezer for lazy Monday meals. Sometimes I will use beef, but I also love lamb, ground pork, turkey or bison.
 I'll take a pound of ground meat and mix up with various herbs for different flavors so I don't get bored with the meatballs. I've made ones with garlic and basil or some with a hint of curry powder. I've tried a Moroccan style with a few pinches of cumin, smoked paprika, cinnamon and a large spoonful of harissa (or any hot red pepper paste). Last week I made lamb meatballs with mint, rosemary and a touch of lemon zest.
Preheat the oven to 350.  Just grab a big bowl and mix up all the following ingredients.
Ingredients:
1 lb ground meat
1 egg (whisk first)
2-3 tablespoons of onion or scallion
1-2 cloves of garlic (I love garlic so put in 2 large ones)
¼ cup of bread crumbs
3 tablespoons of any herb or spice mixture you choose (mine above are with mint and rosemary, but basil or thyme would be delicious. You could also go spicy and do chili or curry powder.)
zest of 1 lemon
pinch of salt and pepper
 Preparation:
Form your meatballs in any size you choose (I did 20 small meatballs with a pound of meat) and put them on a parchment lined cookie sheet. Bake for about 20 minutes for small meatballs, a touch more if you make them larger. Let them cool completely then freeze in ziplock bags.
I was in the mood for Greek so I put the cooked lamb meatballs onto a toasted pita with a yogurt sauce (yogurt and a few drops of lemon juice) and topped with a sprinkle of mint and sea salt. You could also make spaghetti and meatballs a la Lady and the Tramp. Or a meatball sub. Enjoy!