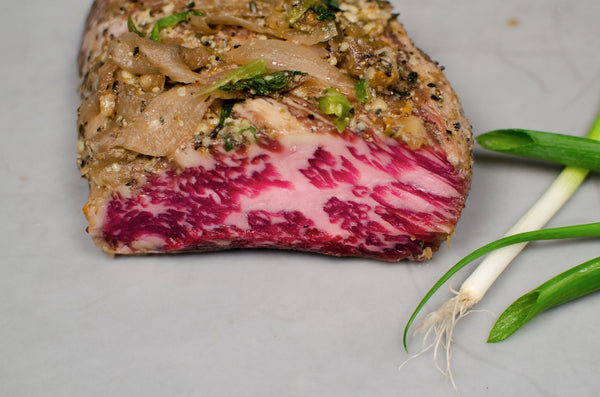 A CUT BELOW THE REST
If someone were to ask you what your favorite cut of steak was, or what you thought were among the most popular, we are betting that ribeye would rule the roost, perhaps followed by strip steaks (Kansas or New York, depending on where you hang your hat), perhaps a hangar steak for the steak frites set, sirloin or flank for the grillers, and of course, filet mignon for the aristocrats. And that's why we want to drop some secret knowledge on our friends and fans and suggest if you haven't tried the tri-tip you have been missing out.
The tri-tip is cut from the bottom of the sirloin and has been a favorite of in-the-know steak lovers for as long as there have been cows. Often overlooked, it is beginning to catch on with trendsetters and appearing on restaurant menus, where it can hold its own with any of the marquee-name cuts.
The tri-tip is the ideal skillet steak, and just as gorgeous on the grill. It's marbling and texture makes it virtually fool-proof to cook, requiring none of the nuance of a filet or the patience to nail a three-inch ribeye to a perfect medium rare without incinerating it.
The tri-tip is perfect as family dinner, for steak and eggs, for tacos, BBQ – if you can think it, the tri-tip can do it. This is as tasty and versatile a steak as has ever been imagined.