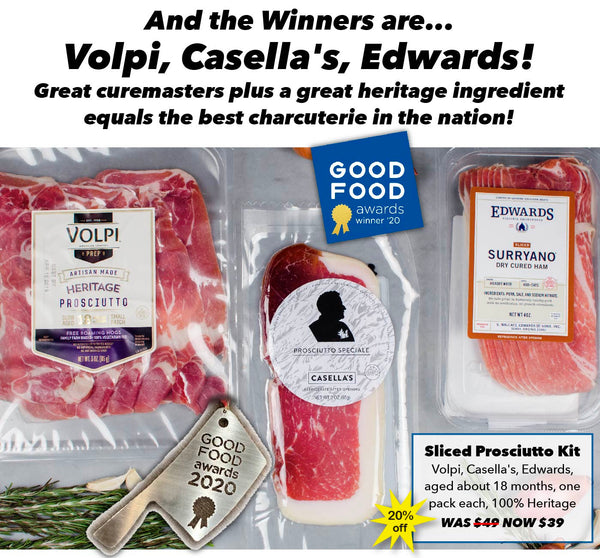 Three Cuts Above the Rest at the Good Food Awards!
We are so thrilled to congratulate Lorenza Pasetti, Cesare Casella, and Sam Edwards on their wins in the Charcuterie Category of the Good Food Awards. All three artisans use heritage hams from our family of farms to make their heritage prosciuttos! In their honor we're having a special sale to celebrate this incredible achievement! try all 3 at 20% off in our Sliced Prosciutto Kit while supplies last! Our Full January Sale Continues!
Hundreds of judges convened in San Francisco to select the country's most delicious and sustainable artisan products at North America's largest sustainable food event. The Good Food Foundation exists to celebrate, connect, empower and leverage the passionate and engaged, yet often overlooked, players in the food system who are driving towards tasty, authentic and responsible food in order to humanize and reform our American food culture.
For a long time, certifications for responsible practices and awards for superior taste have remained distinct – one honors social and environmental responsibility, while the other celebrates craftsmanship and flavor. The Good Food Awards recognizes that truly good food – the kind that brings people together and builds strong, healthy communities – contains all of these ingredients. Over 2,000 entries from all 50 states are submitted each year and we are so proud to be winners amongst a truly special and important community of food growers and makers.