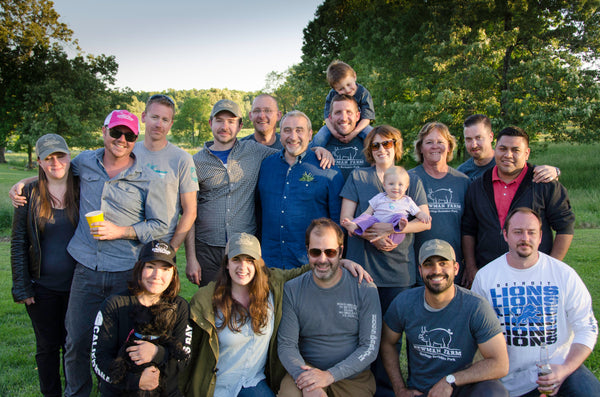 2016 Farm Tour

The 2016 Heritage Foods USA Farm Tour kicked off May 4th with a historic meeting at the Memphis airport headlined by a 15-passenger van, which was at the ready for a 5-day chef tour. Since 2005, an annual farm trip provides the chance for chefs and curemasters to meet the people and animals behind their center-of-plate ingredients.
A trip dedicated to the theme of traceability, the tour has hosted almost 100 chefs to America's greatest and most respected restaurants to the same farms Heritage Foods USA began working with since 2005. Nothing is forever but for the sake of animal welfare, gastronomy, the environment and independent businesses, we kind of hope this is forever!
The Adventurers for the Heritage Traceability Tour 2016
From the West:
Jonah Rhodehamel of Oliveto Restaurant, Oakland. Professional racecar driver and chef.
Taylor Boetticher and Ren Rossini of California's famed Fatted Calf Charcuterie, which moves over a ton of pasture raised heritage meats a week and more during the holidays.
Jason Neve, Jon Littleton, Nicole Brisson and Danny Herrera of the four Batali & Bastianich Vegas restaurants: Carnevino, B&B Ristorante, Otto Pizzeria and B&B Burger.
From the East:
Cesare Casella, holder of a Michelin star and true master of Salumi and Proscuitti. Cesare learned the art of cutting meat from countryside-travelling Tuscan butchers in the 1970's and 1980's ­— he's a true salumi-nary!
Paul Wetzel of Gramercy Tavern in NYC. Chief charcutier to Zagat's top restaurant in New York, Paul is at the forefront of the new American meat movement.
Joe Tarasco, Executive Chef of Danny Meyer's Marta restaurant, the phenomenal pizza and pasta spot in New York's midtown neighborhood.
Team Heritage: Catherine Greeley, Alexes McLaughlin, and Patrick Martins.
From the Midwest:
Howard Hanna, chef of Kansas City's Rieger Restaurant, a world site of gastronomy where they produce their own gin and whiskey in a building whose history can be traced back more than 100 years .
Michael Beard of Meat, LLC, distributor of pasture-raised heritage meats to the Mid-West – places like Oklahoma and Nebraska.
First stop, Memphis and the famous Peabody Hotel for cocktails and to watch ducks make their way across the hotel lobby to bathe in the central fountain. Then Beale Street for Blues City Café BBQ, delicious shrimp and ribs.
We then headed North at lightening speed, and then slower speed once we got pulled over (just a warning)! When we arrived at Newman Farm we gasped at how stunning this farm is. Rita, David and Chris Newman operate in the Ozarks Mountains a farm that is home to 1300 of the best Berkshire pigs in the world – with genetics that are untouchable, from the old lines that can be traced back centuries in the Old World. This farm is at the cutting edge too of an English pasture raising system using outdoor huts for the mothers and babies. The food was marvelous, a true taste of the Ozarks where blackberries and cherries explode from the forests.
After 2 nights, we woke early and drove Northwest at lightening speed (no police stops) to Paradise Locker Meats in Trimble, Missouri. We arrived just in time for the staff lunch, which featured BBQ from Oklahoma Joes. There we met the entire team at Paradise who cuts and portions much of the heritage pork used at the restaurants and curehouses. It was nice for the cutters to put a face to the unusual cuts they craft each and every week, and for the chefs to meet one-by-one the team that makes what they do possible in places like NYC, Vegas and San Francisco. We toured every inch of the plant from the kill floor to the processing room, coolers and cure rooms led by plant manager Lou Fantasma and his father Mario.
Then we were off to dinner at the Rieger Hotel in downtown KC. Located in the historic Crossroads Art District, The Rieger can be summed up as a "Classic American Grill". The Rieger Hotel opened in 1915 and was home to many traveling salesmen, railroad workers, and passersby during Kansas City's formative years. Today Chef Howard Hanna believes that Kansas City is in a prime position to develop a cuisine that speaks to its people, celebrates the bounty of the region, and can be unique and special.
Then we sleep a deep sleep and rise again to travel due west on highway 70 towards the center of the state.
Good Shepherd Poultry Ranch was our next stop. Visiting GSPR and farmer Frank Reese is almost a religious experience. When you arrive Frank begins speaking about the connection between strong and non-industrial genetics with animal welfare. He talks about American history, on the farm, and in the barn. And he explains how each animal we see conforms to traditional body types that populated farms for centuries. He is the Wendell Berry of poultry. Frank took us to see the roughed up breeders who were fighting for mates, and the cute babies they produced. We saw so many different chicken varieties mingling in the dust. And we tasted two of them: the Jersey Buff and Wyandotte, prepared by Frank low and slow. These are the best chickens on earth.
When we left Frank's farm we were silent for awhile as most people tend to be. But we picked up energy again at our last stop for Traceability Tour 2016, Good Farm just outside of Manhattan, Kansas. Here everything fits comfortably like an old baseball glove. We feasted, thanks to chef Michael Beard and Amy Good herself, we shot guns, we toured the farm on a big trailer and 4×4's and saw pig breeds including Gloucestershire Old Spot, Tamworth and Duroc. The breeding boar was massive and intimidating! The babies and teenagers were clean and alert and beautiful.
Then it was back home the next day and to work the day after that, but we returned with a renewed appreciation for the American food supply and the potential it has to feed the world. The energy created on the tour is perhaps best represented by these quotes from the farmers and chefs:
"We are all fortunate to work with such amazing people and it's trips like this that re-center us and bring into clarity why it is we do what we do. For myself, it was great to see old faces and meet some new ones, and hopefully, we will see you all very soon."
"I'm not even joking, that trip was one of the highlights of my career so far. To say it was inspiring and invigorating would be a huge understatement. It was great to meet all of you!"
"We are blessed to have the opportunity to work with such good, talented people who are committed to their passion of serving the very best food to their friends and clients. We are so fortunate to be a part of something that has so many people that truly care about quality and the people who work hard to produce the products that they desire. We are a part of something that is greater than just us. Having you visit our farm and visiting with you gives us "extra energy" to keep on doing what we love to do."
And finally… "Damn, that food is good."
Stay tuned to our blog for more pictures and stories from the Heritage network!!