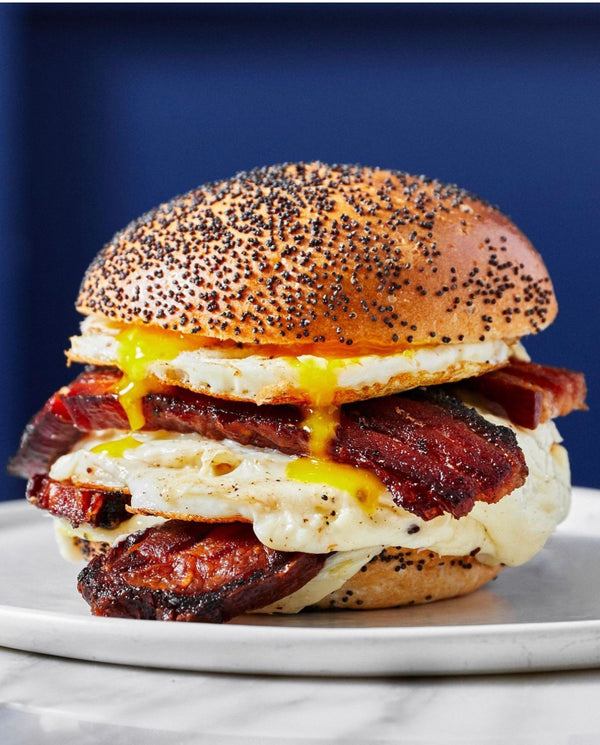 12 Spots to Find Our Bacon
We are proud to see our Signature heritage bacon on menus across the country! This delicious bacon is produced in a maple sugar cure, sourced from our pasture-raised, rare breed pigs. It is a staple and has been our top seller for over ten years. 
The secret to great pork is to start off with great ingredients, and nothing beats our storied Heritage breeds —  Berkshire, Red Wattle, Duroc, Gloucestershire Old Spot, and Tamworth. Each breed comes from a different culinary tradition, and boasts a distinctive, nuanced flavor.
St. Anselm — 355 Metropolitan Avenue, Brooklyn
St. Anselm — 1250 5th Street NE, Washington DC
Win Son Bakery – 164 Graham Avenue, Brooklyn
The Meat Hook — 397 Graham Avenue, Brooklyn
Little Egg — 657 Washington Ave, Brooklyn
Bi Rite Market 18th Street — 3639 18th Street, San Francisco
Bi Rite Market Divisidero — 550 Divisidero, San Francisco
Daily Provisions Union Square – 103 East 19th Street, NYC
Daily Provisions Upper West Side — 375 Amsterdam Avenue, NYC
Daily Provisions West Village — 29 Bedford Street, NYC
Daily Provisions Manhattan West — 440 W 33rd Street Suite 90, NYC
La Pecora Bianca Bryant Park — 20 West 40th Street, NYC
La Pecora Bianca Meatpacking — 817 Washington St, NYC
La Pecora Bianca Midtown — 950 Second Avenue, NYC
La Pecora Bianca NoMad — 1133 Broadway, NYC
La Pecora Bianca Soho — 54 Prince Street, NYC
La Pecora Bianca Upper West Side — 359 Columbus Avenue, NYC
La Pecora Bianca Upper East Side — 1562 2nd Avenue, NYC
Winner — 367 7th Avenue, Brooklyn
Winner Butcher Shop — 192 5th Avenue, Brooklyn
Union Square Café — 101 East 19th Street, NYC
Oceana – 1221 Avenue of Americas, NYC
Rosemary's — 18 Greenwich Avenue, NYC
Vinegar Hill House — 72 Hudson Avenue, Brooklyn