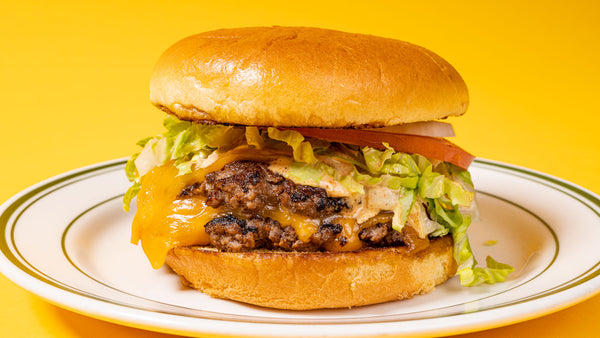 Wagyu Smash Burgers
In the 20 years we've been slinging Heritage burgers, we've come to learn that our bold and beefy half-pound Wagyu beef patties are more than a top-notch show-piece layered between a bun. We love seeing them divided to make these smaller amazingly delicious smash burgers. It's a grind that is as good as a standing ribeye roast, but beef that can be incorporated into everyday meals.
Ingredients:
1lb Wagyu burgers (portioned into approximately 3oz balls, makes ~5 balls for 5 single patties or 2 double patties and 1 single patty) 

½ cup mayonnaise (we love Kewpie)

1 tsp yellow mustard

1 tsp ketchup

¼ cup diced white onion

¼ cup diced pickles, plus 1 tbsp pickle brine

1 tsp smoked paprika

8 oz pack of sliced american cheese

1 pack of potato burger buns

1 small white onion, thinly sliced

1 beefsteak tomato, thinly sliced

1 head of romaine or iceberg lettuce, thinly sliced
Preparation:
In a small bowl, mix together mayonnaise, mustard, ketchup, onion, smoked paprika, pickles, and brine. Season with salt and pepper to taste. Set aside the special sauce.
Preheat a griddle or large skillet over high heat, place each burger on the griddle and smash it with a large flat spatula, smaller skillet, or grill weight. Press until flattened. (Pro Tip: wrap aluminum foil around your pressing medium of choice and apply a small amount of canola oil to prevent sticking to grill weight and for ease of clean up.) Season the flattened burger with salt and pepper and let sear until brown and crispy around the outside edge, about 3 minutes. Flip the burger and sear the other side.
Top each burger with a slice of american cheese, and let it melt. 
Meanwhile, on the other side of the griddle, toast buns in a little bit of the rendered beef fat (toast 5 buns for single patty burgers, or just 3 buns for two double patty and one single patty burgers.)
When cheese is melted, remove burgers to your toasted bottom bun, add a spoonful of special sauce, shredded lettuce, sliced onions, and sliced tomatoes. Add another spoonful of special sauce to the top bun and close the burger with the top bun. Enjoy and serve with french fries.