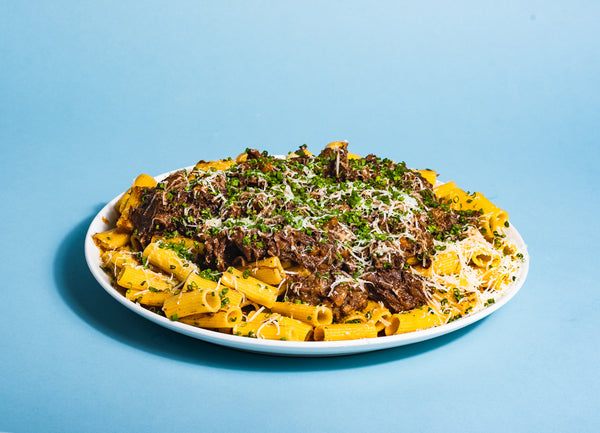 Wagyu Beef Short Rib Sugo Pasta Kit
Whether your family calls it ragu, gravy, sauce, or sugo, this rich and complex slow cooked pasta dish is perfect for relaxing on a cozy fall weekend. An old school Neapolitan recipe, with some new school flavor additions from our in-house chef. Shop the kit here.

Each kit comes with a recipe card and almost every ingredient you need sourced from some of our favorite food businesses:

Short Rib Roast, 2-3lb, Pure Akaushi Wagyu, grades three levels above prime and is the perfect braising cut 
Andrew's Wildflower Honey, 8 oz jar, thick, dark, delicious honey harvested from a variety of wildflowers and plants is sourced exclusively from hives located in Westchester, NY and Fairfield County, CT
Ploughgate Creamery Cultured Butter, 8 oz of unsalted, tangy, nutty, and rich butter made from fresh Vermont cream — cultured for 24 hours before being churned
Momofuku Soy Sauce, 8 oz of soy steeped with kombu unlocks a world of depth and flavor 
Parmigiano Reggiano, 8-10 oz, The King of Italian cheese — aged 24 months to sweet and nutty perfection. Raw milk, produced in Italy and sourced by Saxelby Cheesemongers. Wrap remainder tightly, store in the fridge for up to 90 days
Semolina Artisanal Rigatoni Pasta, One 1 lb box, traditional, slow-dried, full-flavored organic durum semolina pasta made in California
Extra Virgin Olive Oil 
Single Origin Extra Virgin Olive Oil, 250 ml bottle, Olive Oil Jones, unfiltered early harvest from Sicily 
Recipe
Cook Time: 3.5 hours. Serves: 4 people.
Included Ingredients:

2-3lb Akaushi Wagyu Short Rib

1⁄4 cup Wildflower Honey

1⁄4 lb Ploughgate Unsalted Butter, diced

1⁄2 cup Momofuku Soy Sauce

1 lb box Semolina Rigatoni Parmigiano Reggiano to garnish

Olive Oil
Additional Ingredients:

1 medium onion, diced

4 cloves garlic, smashed

1 large carrot, diced

1⁄2 medium fennel, diced

2 bay leaves

3 sprigs thyme

2 sprigs rosemary

1 cup red wine

Sherry or red wine vinegar to taste

Salt & pepper to taste

1⁄2 cup pasta water

1⁄2 cup chives (minced finely) to garnish
Create your bouquet garni – bundle together thyme, rosemary, and bay leaf with twine. Set aside.
Cut the short ribs into individual bones and season liberally with salt and pepper.
In a large stock pot or Dutch oven over medium high heat, brown the short ribs on all sides. Remove and set aside.
Sauté onion, carrot, fennel, and garlic until the onion is translucent, 5-7 minutes. Add in tomato paste and cook for 1 minute
Deglaze the pot with red wine and stir well, scraping up the browned pieces at the bottom of the pot. Cook at a simmer until wine has reduced by half.
Return meat to the pot and add enough water to cover the meat. Bring to a boil over high heat, then reduce to simmer.
Add bouquet garni, honey. and soy sauce.
Cook on simmer for 3 hours or until the short rib is falling off the bone tender and shreds easily with a fork.
Season with salt and pepper and sherry or red wine vinegar to taste and set aside.
Cook the pasta according to box and reserve a 1⁄2 cup of the pasta water.
In large frying pan, bring the reserved pasta water to a boil. Reduce it to a simmer and add the diced butter, whisking until emulsified. 
Add pasta, chives, and short rib to the pan and toss to combine.
Serve with grated parmesan and chives.