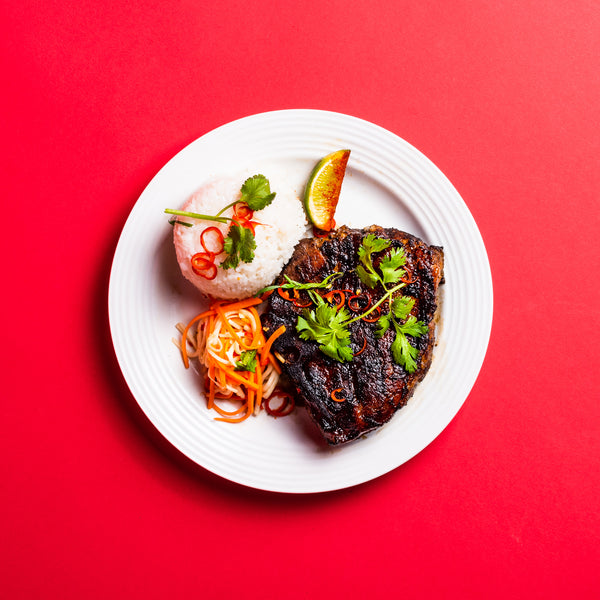 Vietnamese Marinade, Courtesy of Ha's Dac Biet
Grilling season is upon us! We turned to our friend Chef Anthony Ha and Chef Sadie Mae Burns of Ha's Dac Biet for a Vietnamese marinade for our porterhouse pork chops.
Ingredients
1 pound palm sugar (white sugar works too)

1 ¼ cup fish sauce

2 tablespoons minced garlic

¼ cup minced lemongrass

2 tablespoons whole black peppercorns
Preparation
In a small saucepan over low heat, combine the sugar with ¼ cup water. Once dissolved, stir in the rest of the ingredients and remove from the heat. Let cool to room temperature, then place in a large zip top bag along with the pork porters. Marinate in the refrigerator at least 2 hours and up to overnight. Keep in mind this is a powerful marinade, so marinating overnight is not necessary.
Take the meat out of the refrigerator an hour prior to cooking.
Wipe off excess marinade. Season lightly with salt and pepper.
Preheat a heavy bottomed pan over medium-high heat until hot or heat a grill until hot.
Add a tablespoon of oil and sear chops for 3-9 minutes on each side depending on its size. For pieces with a fat cap, try to render the fat on its edge for an additional few minutes. The sugar in the marinade will quickly caramelize, so be sure to flip frequently to prevent if from scorching.
Cook until desired internal temperature is reached. (140-145℉ for pork)
Let rest for 3-5 minutes before carving.