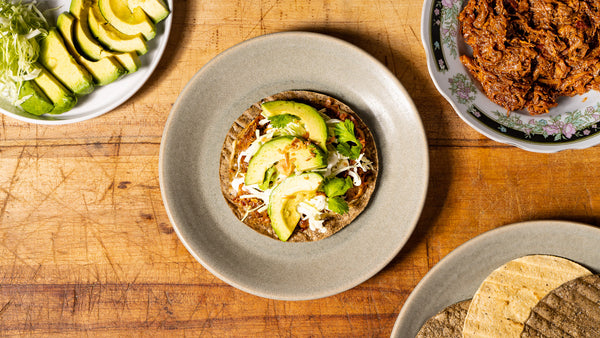 Turkey Tinga Tostada by Chef TJ Steele of Claro BK
Chef TJ Steele of Claro, a Michelin-starred Oaxacan restaurant in Brooklyn, dropped by our studio recently to share secrets behind his signature Heritage Turkey Tinga Tostada. Turkey is a protein that has existed in Mexican cuisine since well before Europeans arrived. Deli turkey sandwich culture this is not! TJ is a king of making the most of whole turkeys. In his kitchen, he celebrates heritage turkey and goat, two meats not typically found in America's top restaurants. 
Ingredients:
For the Tinga
2lb turkey leg (about two large turkey legs)
5 garlic cloves, whole, peeled
10 black peppercorns
medium yellow onion, sliced 1/4"
2 cloves
1 allspice
1 bay leaf

3 chilies from a can of chipotle in adobo, seeded and chopped, (feel free to add a couple more or if you are sensitive to chilies, a tablespoon of tomato paste)

1 quart of water
To Serve
4 each 6" tostada

2 tablespoons crema Mexicana (or creme fraiche with a little lime juice)

1 pint shredded cabbage
1 avocado, sliced
10 stalks cilantro leaves
mayonnaise (optional)
crispy onions/shallots (optional)
Preparation:
Pat your turkey legs dry and season with salt. In a pot with a steamer basket, add about 1 quart of water, 4 cloves of garlic, and 4 peppercorns. Steam the seasoned turkey legs until they are tender and become easy to pick the meat from the bone, about 90 minutes.
Reserve the steaming liquid and skim off the fat. Set aside the legs and let cool until easy to handle. Picking the meat of the turkey is easiest when they are still quite warm from the steamer. Pick all the leg meat from the bone and reserve, being cautious to remove all of the small, flimsy "feather bones" which are sharp and numerous. 
In a pan over medium heat, heat 3 tablespoons of the reserved fat from turkey steaming liquid, chicken or duck fat, or a neutral oil like canola or peanut. Cook the onions in the fat until starting to take on color, stirring often. When the onions start to develop color, add the remaining garlic, peppercorns, clove, allspice, and bay leaf. Continue to stir often and cook until deeply caramelized. 
Add in the reserved turkey seaming liquid and cook until reduced by half. At this time remove the bay leaf, peppercorns, clove and allspice. You may remove the garlic as well but Chef TJ likes to mash them into the onions with a spoon. Add the turkey and chipotle peppers and continue to cook and stir until the sauce coats the shredded meat thickly and dragging a spoon across the bottom of the pan leaves a clean line. Season your tinga with salt if needed. 
To serve, evenly spread a small amount of mayonnaise across each tostada. Divide the tinga meat among them and garnish with crema, shredded cabbage, cilantro leaves, and crispy onions. Serve immediately.