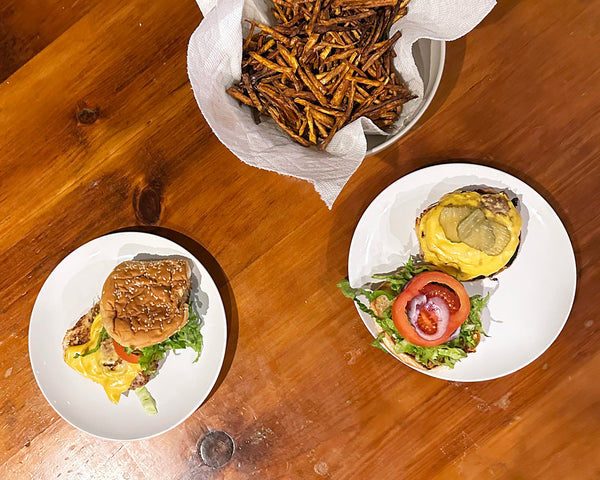 Turkey Smash Burgers
I love smashburgers, their easy to consume patties, the large blanket of well-seared crust, the yellow cheese that burns a little because the patty is so thin that when a slice melts it'll inevitably touch the pan. 
For years, I didn't consider anything other than beef the meat one uses for a burger. But we grow older, and our absolutes become less absolute, and then all of sudden you're letting other meats into your burger arsenal. Even writing that last sentence was hard. 
That said, I admit, ground chicken makes a pretty good burger, and during a recent dinner with Patrick, we made some delicious burgers first with ground lamb and then with ground goat. The ground goat was particularly surprising.
So when Heritage approached me and asked what to do with ground turkey, I said smash burgers, not knowing what it would take to achieve smash burger ecstasy with turkey meat. I admit, turkey is probably my least favorite protein. Outside of Thanksgiving where it's a household must, I generally avoid it. 
The challenge for any great "burger" is the right meat to fat content. A good beef burger will have 15 to 20 percent fat in the mix. 
Turkey, even with dark meat, is hard to get that much fat. In come cold pebbles of butter, which add the fat you need, and an additional level of flavor that makes these smash burgers a pleasant surprise.
Said my 4-year-old, a tough critic who we didn't tell that his burger was made of turkey: "Dad this is really good." #DadWin
Healthy it is not, but it's a burger, it's not meant to be.
Ingredients:
1 pound ground turkey meat, completely defrosted

1 teaspoon garlic powder

1 teaspoon onion powder

Large pinch of black pepper

½ stick of cold butter cut into very small chunks, plus more for toasting the buns

Kosher salt

3-6 hamburger buns

Sliced cheese

Shredded lettuce

Thinly sliced onions (I like red)

Sliced tomatoes, lightly salted

Sliced Pickles
Preparation

:
In a large mixing bowl, combine turkey, garlic power, onion powder and pepper. Fold in cold butter, making sure it is evenly distributed but not melted. You should be able to see dots of butter in the meat.

With lightly oiled hands, divide the meat into six equal sized patties and set aside. No need to fuss about getting them each the exact same weight. Close enough will do.

Place a plan on the stove on medium-high heat. While the pan comes to temperature, lightly butter the buns.

When the pan is ready, toast the buns, gently pressing down in the middle to make sure they have direct contact with the pan. Toast for about 1-2 minutes and remove to a plate, making sure the tops and bottoms of each bun stay together to help keep them warm. Do this in multiple batches if there is not enough room in your pan to cook them all at once.

Wipe any crumbs from the pan. Liberally salt the turkey patties and place in the frying pan making sure to leave enough room for when you press them down. To 

smash

, lightly oil the bottom of a clean, small saucepan or a spatula and use the oiled bottom to press down on the burgers so they are about ¼ inch thick. The oil ensures they won't stick to the saucepan or spatula. Cook for about 2 minutes and flip. They should be nice and crusted.

Add cheese and cook for about two more minutes.

Place one or two patties on a bun, top with tomato, lettuce, onions, pickles and your favorite condiments, and serve.