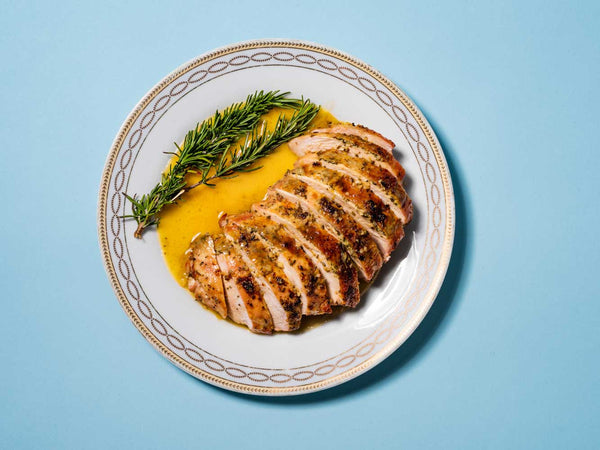 Turkey Breast with Garlic & Rosemary Butter
Chef Hannah prepares a garlic and herb paste which is inserted under the skin of the turkey breast adding flavor to the white meat. The breast is placed in a roasting pan with a splash of white wine on the bottom and then covered so it steams as it cooks in the oven. The breast is finished uncovered to crisp the skin.
Ingredients:
1 turkey breast, skin on

4 cloves garlic

1 teaspoon kosher salt, plus more for garlic paste

4 tablespoons room temperature butter

½ teaspoon freshly ground black pepper

2 tablespoons finely minced rosemary, plus 1 sprig rosemary

Zest of ½ a lemon

1 bay leaf

½ cup dry white wine (if you don't have wine or want to make without booze, you can use chicken or vegetable stock, or just water)
Preparation
:
Roughly chop the garlic cloves, then sprinkle with salt and continue chopping, periodically using the side of the knife to press the garlic into the cutting board. Continue mincing and pressing the knife into the garlic until you create a paste. 
Mix garlic paste with butter, pepper, rosemary, and lemon zest. 
Pat your turkey breast dry with paper towels. Gently loosen the skin from the meat and begin spreading about half of the butter mixture under the skin as evenly as possible. Rub the remaining garlic butter on top of the skin and the underside of the breast, making sure to spread some between the tender and the breast meat. 
Let marinate in the refrigerator uncovered, a few hours or overnight. 
Preheat oven to 425 degrees F. Place the turkey breast in a large oven proof skillet, tucking the thin, tapered end of the breast underneath the rest of the meat. Pour the wine around the turkey, then add in the rosemary sprig and bay leaf. Roast for 40 minutes (the turkey breast can go straight from the fridge to the oven - this will give you extra time to brown the skin while the meat warms up).
Remove the pan from the oven, baste with pan sauce, and check the internal temperature of the thickest part of the turkey. Continue to cook, basting and checking the internal temperature every 10 minutes, until the thickest part of the meat registers 150 degrees F, another 10 minutes or so depending on the size of your turkey breast. Let rest 10 minutes, until the internal temperature registers 160 degrees F. Slice, spooning the pan sauces over.