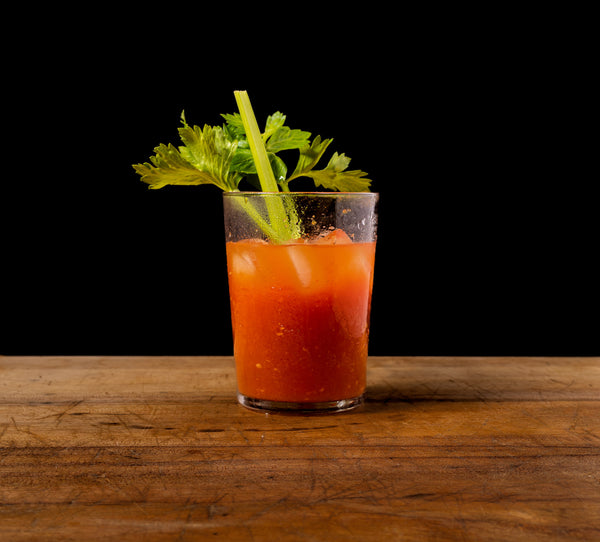 The New World Bloody
To compliment TJ's turkey tinga bartender Matt Botkin riffed on the Bloody Maria using Vago Elote, a mezcal distilled three times with the final distillation adding roasted black corn to round out the smoky flavor giving it a toasted nuttiness and sweetness. The higher than average proof balances perfectly with the robust flavors of tomato, chili, and brine to make the pairing a veritable New World feast!
Ingredients:
4 oz tomato juice

dash of hot sauce of your choice (or several, to taste!)

1 ½ oz Vago Elote Mezcal
Preparation:
Add the tomato juice to a large glass with ice, add the lime, horseradish, worcestershire, pickle brine, and hot sauce. Stir until well combined. For best results multiply this recipe and prepare this mixture all together in a pitcher several hours prior to serving. Add 1 1/2 ounce of Vago Elote Mezcal and mix by pouring with ice into another large cup, repeatedly. Garnish with a celery stick and a pickle*
*Feel free to garnish to your heart's desire (extra pickles, bacon, etc.) but personally I believe food goes on a plate and drinks go in the glass and anything other than these two staples is garish. Just one bartender's opinion!