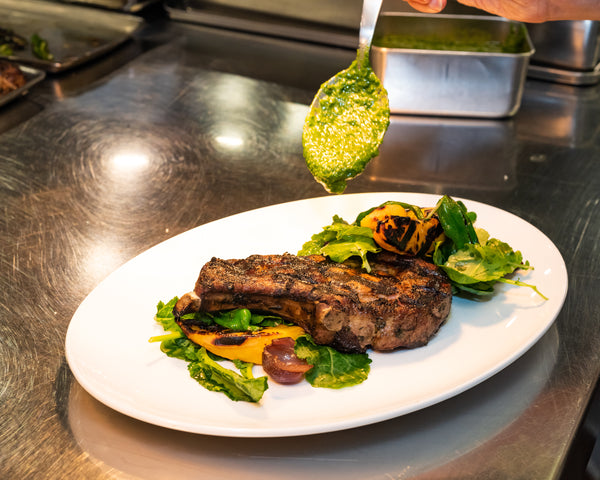 The Most Enigmatic Cut of the Pig, Center of the Plate at Union Square Cafe
Executive Chef Lena Ciardullo of Union Square Cafe — New York restaurant industry titan Danny Meyer's first restaurant — has bought pork from us at Heritage Foods for many years since her early days at Marta. When it comes to her favorite cut of pork, she says, "I love the country-rib chop because it's such a great representation of all the parts of pork I love. You get some of the rib meat, some leaner loin, and some really well marbled shoulder. The sum is a really flavorful piece of meat that cooks beautifully on the grill."
As a friend of Heritage, she thoroughly understands and espouses our mission, saying "Heritage breed pork is important to me as a chef not just because it is sustainable and better for the food system, but also because it is actually more delicious. The meat is a nice rich pink color and eats far more similar to beef than a traditional commodity pork. There is depth of flavor that makes the product truly special."
The country-rib might just be our favorite cut on the pig, too. We love it partly because of its mysteriousness — it cannot be found in the Meat Buyer's Guide. It was the last cut we ever learned about — we were 5 years into our wholesale careers when we discovered there was a new frontier on the pig that was being left on the shoulder. When we separated it out, the country-rib immediately became a chef favorite as it combines the best parts of the pig: loin and shoulder. All at once, it's a grilling cut; it's a braising cut; it's tender, fatty, and lean; it's a chop, and it's a roast!
Union Square Cafe's Grilled Heritage Country Rib Chop, Courtesy of Chef Lena Ciardullo
Ingredients:
1 packed cup deseeded and chopped shishito peppers, plus more whole shishitos for grilling

1 clove garlic

1 packed cup of picked cilantro

Olive oil

2 packed cups of picked parsley

Salt to taste

3-4lb country rib roast, sliced into chops

2 ripe peaches or nectarines, sliced into wedges

1 red onion, sliced into wedges 

Juice of 2-3 limes

Baby kale, baby spinach (or other baby greens of your liking)
Preparation:
Put shishitos, garlic, and cilantro into a food processor or blender. Add enough olive oil to blend. After the ingredients come together, add in the parsley, more olive oil, and a big pinch of salt. Blend until smooth.
Season each chop liberally with salt and pepper, and then rub with ½ the herb mixture (reserve the rest to make a dressing for the final plate). Cook country ribs on a grill or in a pan. When cooked to medium (130 degrees F or to your desired doneness), allow the pork to rest.
In the meantime, grill some slices of your favorite stone fruit (we use yellow peaches), shishitos (or other peppers), and wedges of red onions.
While vegetables are on the grill, mix the reserved herb mixture with lime juice and salt to make a dressing. Once all the vegetables are grilled, toss in a bowl with your greens and a drizzle of the dressing. Serve with the country rib and extra dressing to dip in as you go.