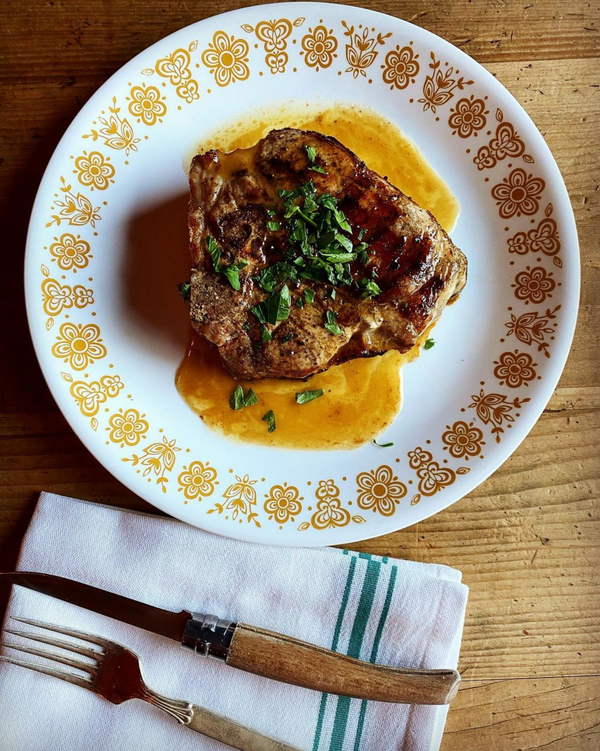 St. Anselm Restaurant's Bourbon Brined Pork Chop Recipe
St. Anselm Restaurant's Bourbon Brined Pork Chop Recipe
by St. Anselm Restaurant Brooklyn, NY
St. Anselm is one our favorite restaurant's in New York, and we are proud to provide them with their pork, which they brine to perfection in bourbon.
"I'd given up on pork chops — always so dry and boring! — until I learned two ways to fix the problem: use a thick chop and brine it. This brine started as a sauce; I wanted to match bourbon's sweet malt and vanilla flavors with pork, so I added a splash to melted butter. It later morphed into a boozy brine that could also be used with chicken, and I combined both in this recipe. Cabin Still is a great cooking bourbon, but you can use the cheapest bottle you'd be willing to drink." — Joe Carroll
For the Bourbon Brine:
1 gallon water

1 cup kosher salt

1 cup packed dark brown sugar

1 large yellow onion, thinly sliced

1 head garlic, halved horizontally

2 bay leaves

1 cinnamon stick, preferably Mexican

1 tablespoon black peppercorns

1 tablespoon whole cloves

¾ cup olive oil

1 ½  cups bourbon
For the Pork Chops:

4 tablespoons butter
1 tablespoon bourbon
Coarse sea salt
Preparation:
In a large pot, combine all of the brine ingredients except the bourbon and bring to a boil. Turn off the heat and stir in the bourbon. Let cool to room temperature, then transfer to a nonreactive container and refrigerate until cold.
Put the pork chops in the cold brine and refrigerate for 8-12 hours.
Remove the pork chops from the brine and pat dry with paper towels. Discard the brine.
Grill the pork chops over medium-high heat (or in a cast iron pan), 4-5mins per side until the temperature reaches 135℉. Transfer the pork to a platter and let rest for 5 minutes.
While the pork chops rest, in small skillet (if grilling, or the same pan you used to cook the chops), melt the butter over medium heat. Carefully add the bourbon and then tilt the pan away from you until it ignites (use a match or a lighter if using an electric stove). Let the alcohol burn off, then swirl the sauce until emulsified.
Transfer the pork chops to plates and spoon some of the sauce over each chop. Sprinkle with coarse salt and serve.