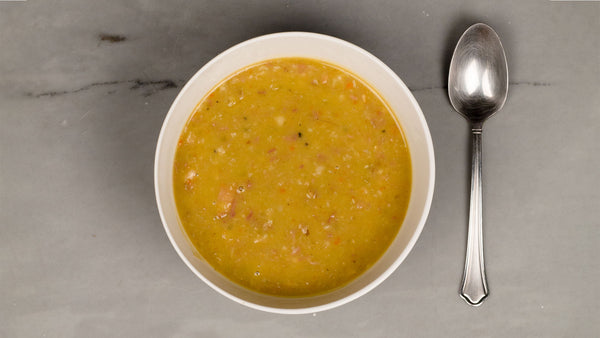 Split Pea Soup from Mary O'Grady
Nose-to-tail doesn't just mean eating all the cuts of the animal, it's also about making the most of each of those cuts. In all aged culinary traditions, especially those with particularly rich peasant foods, the most delicious dishes are the result of several phases of cooking. This recipe is the prime example of creating a meal to be cherished from what would otherwise be considered an off-cut and discarded.
Mary O'Grady provided this recipe and is an old friend and the founder of Slow Food Austin in the early 2000s. Mack is the man behind the lens and drove a taxi in Austin for decades. Now they eat and travel the world.
Rendering ham fat
1. Get a lot of ham fat, preferably in pieces about half the size of your palm or larger, and place them in a large saucepan with a big volume of water.
2. Bring to a boil, reduce heat, and simmer for a couple of hours.
3. Chill until fat congeals on the surface of the liquid.
4. Remove floating connective tissue and scrape off solidified fat into a storage container, or use it immediately .
5. Skim the rest of the fat and store or use. Reserve the broth for soup- or sauce-making.
6. Fat and broth can be stored in the refrigerator or freezer. Use refrigerated broth within 3 days.
Split Pea Soup with Ham
Serves 8-10 
Ingredients:
4 Tablespoons rendered ham fat or olive oil
1 medium onion, peeled and chopped
4 medium carrots, peeled and diced
Broth from rendering ham fat, plus enough water to bring the volume to 16 cups
2 pounds split peas, picked over to remove any foreign objects
1 ham bone
2 Tablespoons dried thyme
Preparation:
1. Melt ham fat over low heat in large soup pot or kettle, or heat olive oil.
2. Add chopped onion and diced carrots. Cover pot and cook gently, stirring occasionally, until onion is translucent.
3. Add ham bone, split peas, and ham broth/water mixture. Stir well.
4. Bring to a boil and reduce heat to simmer.
5. Cook over low heat until the peas are soft and the liquid has taken on the deep green color of the peas. Stir occasionally. Expect this to take at least two hours, but the soup really does not take much attention at his stage.
5. When peas are soft, add the thyme and simmer another 30 minutes.
6. Remove ham bone and cut off any remaining ham. Dice the ham and add it back to the pot. Discard the bone.
Salt and pepper can be added at the table according to the individual's taste.
This soup freezes well.