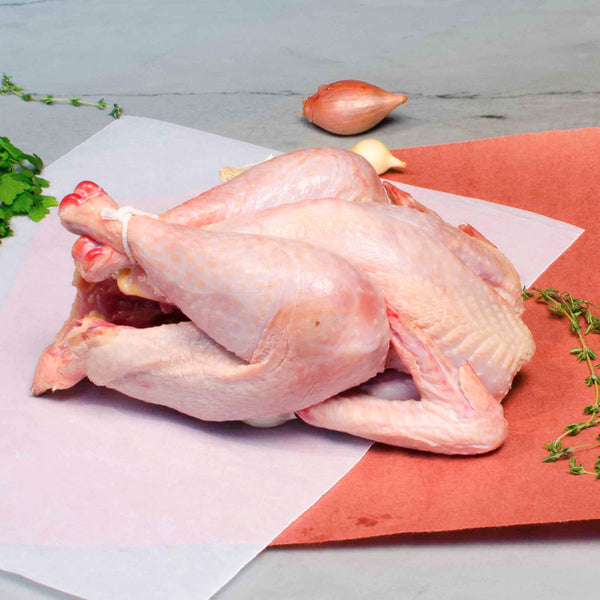 Spatchcocked Cowboy Chicken Recipe - For Heritage Chickens!
There are so many ways to prepare a chicken. One of our favorite methods is to spatchcock the bird so that it cooks more evenly. There is something special about using a butchering technique when cooking — it connects you with the bird in a special way and puts you in touch with every part of the animal, nose to tail. It also lets the cooking happen faster by adding more surface area to the chicken which makes up time on the backend of the process.
Ingredients:
2 Tbsp Kosher Salt
2 Tbsp Sugar in the Raw (can use brown sugar)
2 Tbsp Ground Chili's (ground roasted New Mexico chili's)
1 Tbsp Large Grind Black Pepper
1 Tbsp Five Spice Powder
½ Tbsp Granulated Garlic
½ Tbsp Onion Powder
¼ tsp Cayenne Pepper
¼ tsp Celery Seeds
½ cup Melted Butter
½ cup Balsamic Vinegar
½ cup Honey
Preparation:
Preheat the oven to 325 degrees. 
Mix all ingredients for glaze in a bowl and set aside.
Mix all ingredients for rub and set aside. 
Remove the chicken from the package and pat dry with paper towels.
With breast side down, using kitchen shears cut along the spine on both sides and remove and save for stock. Flip the bird back over and press firmly in the middle of the breast bone to flatten. This is called spatchcocking. 
Rub a light coat of olive oil all over the chicken. Season with spice rub liberally on the skin side and lightly on the underside. Place chicken on a sheet pan with a wire rack and roast until the thickest part of the thigh reads 150 degrees. 
Turn the oven up to 450 degrees to crisp the skin and glaze with a basting brush, let roast for 5 minutes and glaze one more time, roasting for an additional 5 more minutes and remove from the oven and serve.