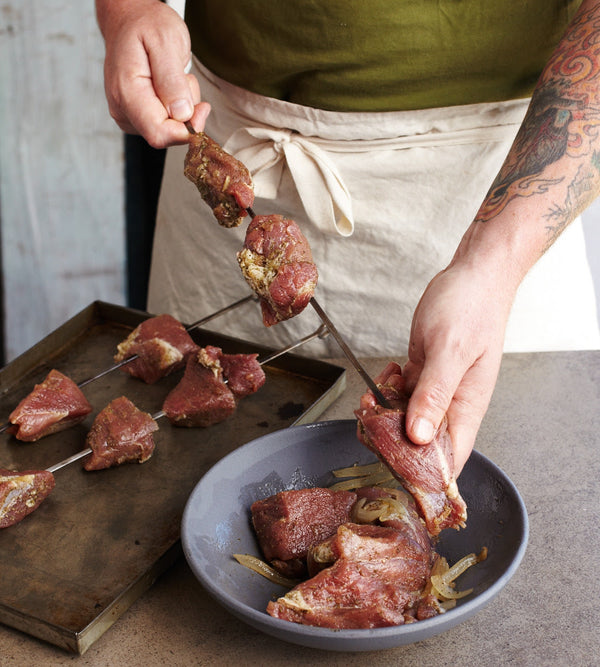 Skewering Tips by Fatted Calf Charcuterie
Cooking meat on skewers is almost as old a technique as lighting a fire itself. It is hard to resist the ancient allure of meat on a stick. It is quick, versatile and perfect for feeding just as few as two or many more.
Almost anything goes when it comes to skewers. You can keep your seasoning simple with just a smattering of fresh herbs and crushed garlic or open wide your spice cabinet and throw caution to the wind. Although lean and tender cuts are often favored, even those cuts not traditionally associated with high heat grilling, such as shoulder cuts of pork, beef or lamb, can work equally well when cut to size and allowed to marinate for a day or more. Use your favorite cut, just cube, marinate, spear and you are ready to grill.
Here are a few handy tips for prepping your skewers:
| | |
| --- | --- |
| ▪ | If you are using wooden skewers, be sure they have been soaked in water before skewering to avoid burning. |
| | |
| --- | --- |
| ▪ | Thread the pieces of meat through their centers or thickest parts onto the skewer. |
| | |
| --- | --- |
| ▪ | Leave at least an inch of space between each piece. While it may look more appealing to have the skewer tightly packed with pieces of meat, leaving a space in between each cube helps the meat brown more thoroughly and cook more evenly. |
| | |
| --- | --- |
| ▪ | Skewer vegetables separately. Decorating your meaty skewers with a cornucopia of seasonal vegetables might be tempting but the meat and vegetables seldom cook at the same rate and should be cooked separately. |
| | |
| --- | --- |
| ▪ | If you are cooking different cuts on the same skewer, be sure to choose cuts that will cook at more or less the same rate. |
| | |
| --- | --- |
| ▪ | More delicate cuts, such as lean poultry, rabbit or organ meats, benefit from a protective layer of fat wrapped around each piece--caul and thinly sliced bacon or pancetta work well. |
| | |
| --- | --- |
| ▪ | For oddly shaped or unwieldy pieces of meat, thread the meat onto two parallel skewers to prevent the meat from flopping around while cooking. |
Pork Brochettes with Herbes de Provence
The alluring scent of these pork morsels, crusted in black pepper, white pepper and Herbes de Provence, is hard to resist as it wafts off the grill. We prefer pork picnic but you can also use pork loin if you prefer a more tender cut or even lamb leg or chicken.
Makes six servings
2 ½ pounds boneless pork picnic or pork loin
2 ½ teaspoons sea salt
1/2 teaspoon ground black pepper
1/4 teaspoon ground white pepper
4 cloves garlic, lightly crushed
1 yellow onion, cut into 1/2 inch thick slices
2 tablespoons olive oil
1 dried bay leaf, crumbled
2 teaspoons chopped rosemary
2 teaspoons chopped thyme
2 teapoons chopped oregano
2 crumbled fresh or dried lavender buds
Cube the pork shoulder into one inch pieces and season with the sea salt, black and white pepper. In a large bowl mix the crushed garlic and onion with the olive oil. Add the seasoned pork and herbs. Cover and refrigerate for one to three days. If you are marinating for longer than a day be sure to mix the pork once a day to re-distribute the seasonings.
Skewer the cubes of pork leaving one inch in between each piece. Discard the onions, garlic and any additional marinade. Grill over a medium-hot fire for about 8 to 10 minutes, turning frequently to brown evenly on all sides. Alternately, cook the skewers under a broiler or roast in a 450°F oven.