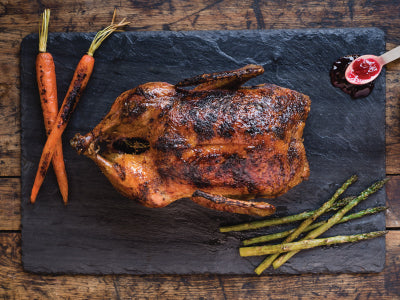 Simple Whole Roast Duck
 Ingredients:
1 bunch of baby carrots
1 bunch of asparagus
12 baby red potatoes
1 jar Native Harvest Chokecherry Jam
Salt and pepper for seasoning
Procedure:
Remove the duck from packaging and carefully rinse the body and cavity. Let the duck sit in the refrigerator overnight so the skin can dry out. Bring the duck to room temperature, remove excess fat around the neck, and prick the skin all over with a fork before you begin cooking. Preheat the oven to 425ºF. Season the outer layer and inside the cavity of the duck heavily with salt and pepper. Cook the duck, breast side up, on a rack in a roasting pan. Rotate the pan after fifteen minutes to allow the skin to brown evenly.
After a total of 30 min, reduce the heat to 350ºF. Drain off the fat every 15 min and reserve it in a heat safe container. Cook for about 30 min or until it reaches the desired temperature. The USDA recommends duck be cooked to an internal temperature of 165ºF, our chefs recommend removing from the oven at 135ºF as the temperature will continue to rise after coming out of the oven. Let the duck rest for 20 min before carving to allow the juices to redistribute. While the duck is resting, heat up the duck fat in a saucepot. Coat carrots, potatoes, asparagus or another vegetable in the warm duck fat. Season the vegetables with salt and pepper and place them in the oven until cooked through. Serve with a side of Native Harvest chokecherry jam and enjoy!