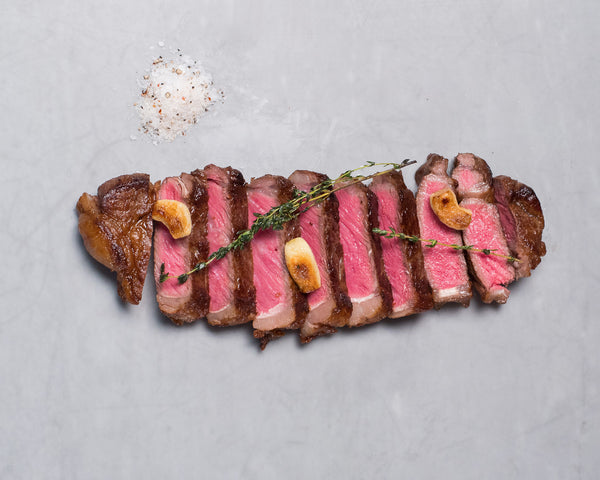 Simple Pan Seared Steak Recipe
1. An hour before cooking pull your steak out of the fridge and allow it to come to room temperature. Position on a rack to encourage airflow around the meat. Season liberally with coarse grain salt and black pepper and let rest for at least 40 minutes before cooking. This will allow the salt to permeate and tenderize the meat. It will also draw out excess moisture. Be certain to pat the meat dry before cooking.
2. Preheat oven to 500°F.
3. Heat cast iron pan over medium high heat until smoking hot. Before you begin cooking be sure to turn your hood fan on high. It's gonna get smokey but that's OK! You can't cook a good steak without making a little smoke.
4. Right before placing the steak in the pan add a tablespoon of oil. Over a high flame on the stovetop, sear steak in pan for 1 – 2 minutes. Flip. Sear second side for 2 minutes. Use tongs to sear fat side of steak for roughly 30 seconds.
5. Place pan in oven for 2 minutes and check temperature with a meat thermometer for desired doneness.
6. Remove steak from pan and allow it to rest for 15 minutes. Slice against the grain. Garnish with finishing salt and serve family style.
Internal temperature guide:
We recommend pulling your steak from the pan when the internal temp reaches 5-10 degrees less than the temperatures listed below as the internal temp of the steak will continue to rise after leaving the heat.
Rare 120°F – 125°F
Medium Rare 130°F – 140°F
Medium 140°F – 150°F
Medium Well 150°F – 160°F