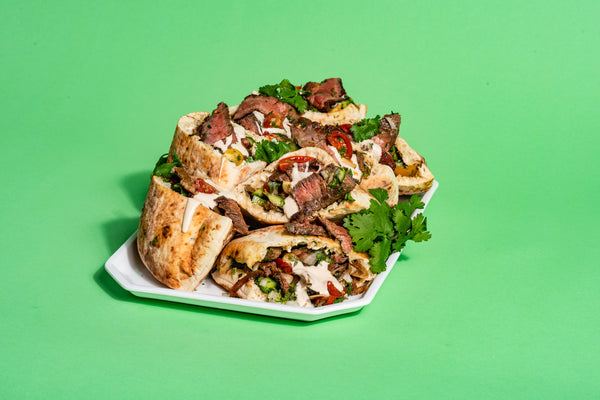 Shawarma Kit With Akaushi Flank Steak Recipe
Shawarma is meat, thinly sliced, and wrapped in pita bread. A classic street food with Levantine origins, shawarma shares close ties to doner kebab, al pastor, gyros, and tacos árabes.
Shawarma is generally meat stacked on a spit that's slowly roasted and sliced thinly. Since we don't expect you to procure a spit, we chose our Akaushi flank steak because of how quickly it becomes super tender in a cast iron pan or on the grill.
Included Ingredients:
Additional Ingredients:
1 white onion, half sliced, half diced

2 cloves garlic, thinly sliced

1 small bunch mint, chopped, divided

2 lemons

1 (12oz) package Persian cucumbers, 4 diced, the rest cut in to spears

1 (12oz) package mixed heirloom cherry tomatoes

1 small bunch parsley, chopped

1 small bunch cilantro, chopped
Preparation:
Feeds 8
Thaw and pat dry the flank steak, season liberally with salt and a large pinch of Villa Jerada Shawarma Spice Blend. Generously drizzle with olive oil and place in a gallon sized ziptop bag along with the sliced onion and the garlic. Marinate at room temperature for at least an hour, or in the fridge overnight.
Add 1 cup of yogurt to a small mixing bowl. Stir in ¼ cup of the mint along with lemon juice and salt to taste. Set aside.
Stir tahini well and measure out 1 cup of tahini into a medium mixing bowl. Squeeze the juice of half a lemon and season with salt. Pour ice cold water slowly into the tahini while whisking until the tahini becomes the consistency of toothpaste and set aside.
In a large bowl, mix together ½ cup total of the mint, parsley, and cilantro. Add in the cucumbers, tomatoes, and the chopped onion. Mix well and season with lemon juice, salt, and olive oil to taste and set aside
Remove the steak from marinade, reserving the onion and garlic. Preheat a grill or cast iron pan over medium high heat and sear the flank steak 3-4 minutes per side until desired temperature (125 degrees F for medium rare), then let rest 5 minutes. 
In a pan over medium high heat, cook the reserved marinade, stirring frequently, until the onions and garlic are browned. Place in a large bowl, then slice the steak thinly against the grain and mix with the cooked onions and garlic. Mix in the chopped vegetables.
Steam pitas in a microwave under a damp paper towel for 30 seconds on high or toast in a 425 degree F oven for 2 mins. Slice each pit about one inch from the top, reserving the tips to dip in the sauces. Open the pocket with a spoon, coat the inside of the pita pockets with the lemony tahini and the mint yogurt, and fill with the steak and salad mixture. Top the sandwich with more tahini, and repeat with remaining pitas. Serve alongside the cucumber spears, the tips of the pita, and extra lemony tahini and mint yogurt for dipping.