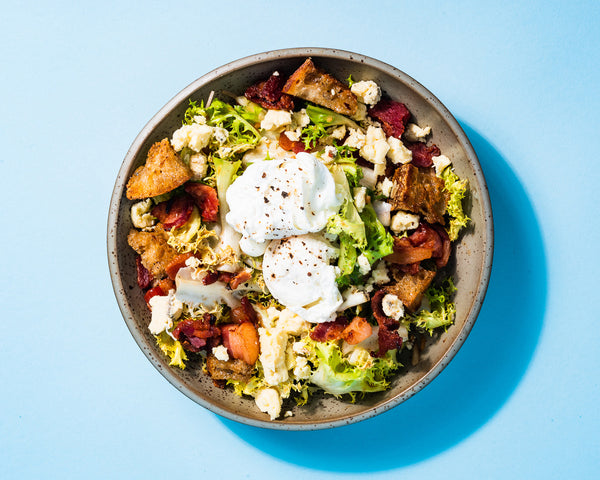 Salad Lyonnaise Recipe
Summer is here! With produce abundant and temperatures soaring, our cravings turn to salad. However, we think the best salads are the ones with meat! We love using our
Signature Bacon Ends
in dishes like this Salad Lyonnaise. When we our bacon slabs into strips, we are left with little end pieces. No part of the pig should go to waste, so we collect all these bits and sell them as bacon ends. These are essentially lardons and make a great addition to salads, mac & cheese, roasted vegetables (brussel sprouts and bacon, anyone?), and really whenever you're in the mood for a sweet, salty, meaty treat.\
1 shallot, minced

1/4 cup red wine or sherry vinegar

1 tablespoon Dijon mustard

4 tablespoons unsalted butter

2 cups sourdough bread cubes (about 1 inch x 1 inch)

2 garlic cloves, crushed

1 sprig rosemary

2 tablespoons white vinegar

2 eggs

1-2 heads clean, trimmed frisée (about 3-4 cups)

salt and pepper to taste

1/4 cup of crumbled blue cheese (we like Von Trapp and Jasper Hill)
Preparation:
In a large skillet over medium heat, cook bacon ends in a skillet over medium heat until crispy, 10-15 minutes, and drain on to a plate lined with paper towels. Reserve bacon fat in a heat proof glass.
Add half of the reserved bacon fat back to the pan and add in the shallot. Cook over medium heat until soft, about 8 minutes (strain the rest of the fat and save it for another purpose). Add vinegar to deglaze, scraping up all those tasty bits of bacon stuck to the pan, then add mustard and whisk together. Place in a heatproof container and set aside in a warm place. 
Wipe out the skillet and place over medium heat. Melt the butter until foaming, then add the sourdough, garlic, and rosemary and stir together. Fry the croutons, stirring frequently, until evenly browned on all sides, about 8-10 minutes. Drain on to a plate lined with paper towels.
In a small pot bring to a simmer 4 cups of water with the 2 cups vinegar. The vinegar is optional, but it helps the egg white coagulate faster, making the poaching process a bit easier and dependable. Stir the water with a slotted spoon and crack each egg, one at time, into the vortex. Cook at a low simmer for approximately 2-3 minutes for a runny egg (longer for medium or hard poached). Remove from water with a slotted spoon and rest spoon on a paper towel lined plate to absorb any excess water.
Toss the frisee with the dressing, season with salt and pepper to taste, and plate in a serving bowl. Garnish with bacon lardons (you may have more than you need), the croutons, and blue cheese, and top with the two poached eggs, seasoning the eggs with salt and pepper.