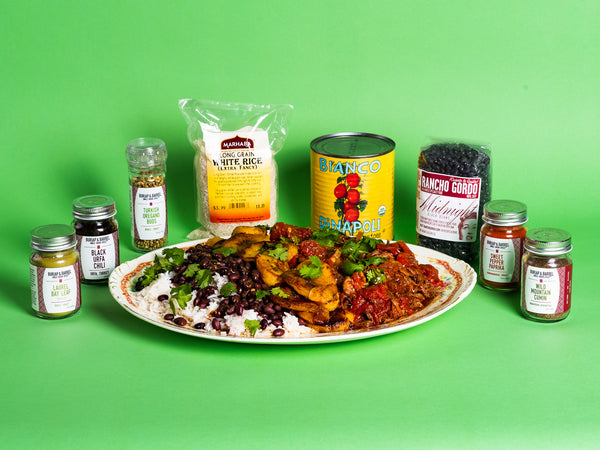 Ropa Vieja Dinner Kit Recipe
A Heritage take on Cuba's signature dish featuring our Pure Akaushi Wagyu Flank Steak and the best international ingredients we could find!
Burlap and Barrel is an American spice importer that sources sustainable, single-origin spices directly from small farmers and foragers around the world. We're excited to feature 5 of their spices in this new kit.
Each kit includes a recipe card and every ingredient you need (except the fresh produce, plantains not included): 
Midnight Black Beans, 1lb bag, from Rancho Gordo, a classic, versatile, black turtle bean, extremely creamy and flavorful
Whole Peeled Canned Tomatoes, 28 oz can, from Bianco DiNapoli, vine-ripened, organically-grown and harvested in Northern California
Long Grain White Rice, 1lb bag, from Kalustyans, the legendary NYC spice shop in Manhattan's "Curry Hill" neighborhood
Black Urfa Chili Flakes,1.8 oz jar, sourced from Urfa, Turkey
Ground Laurel Bay Leaves, 1.5 oz jar, sourced from the rocky Mediterranean coastline of Turkey
Sweet Paprika, 1.8 oz jar, sourced from southeastern Turkey
Turkish Oregano Buds, .5 oz jar with grinder, handpicked tiny, pinecone-shaped buds
Wild Mountain Cumin, 1.5 oz jar, hand-picked in the Hindu Kush mountains of Afghanistan
Pure Akaushi Wagyu Flank Steak, 2-2.5lb, Akaushi beef is the Japanese Red Cow, a national treasure in Japan. Our Akaushi are sourced from the very same family of farms that first brought the breed to the States, Akaushi being perhaps the most marbled beef in the world.
Recipe
Cook Time: 3.5 hours. Serves: 4 people.
Included Ingredients:
2-2.5lb flank steak

4 tsp paprika

1 tbsp cumin seeds

1 tbsp oregano buds crushed

1 tbsp Black Urfa chili

1 can whole peeled tomatoes

½ tsp ground laurel bay leaves

1 cup dried black beans

1 cup white rice
Additional Ingredients:
2 medium Spanish onions sliced

3 medium red bell peppers sliced

1 head of garlic minced

½ cup dry white wine

Vegetable oil

Ripe sweet plantains (optional)

Cilantro

Salt

Pepper
Remove thawed steak from the refrigerator and bring to room temp. Pat dry with paper towels, cut in half, and season well with salt and pepper.
In a Dutch oven, heat 2 tablespoons vegetable oil over medium-high heat and sear flank on both sides until evenly browned. Remove and set aside.
In the same Dutch oven, sauté the onions and peppers until golden brown, about 10 minutes. Add garlic and cook until fragrant, another 2-3 minutes.
Add wine to deglaze the pan and simmer until the liquid is reduced by half. Add paprika, oregano, cumin, and Black Urfa chili. Season with salt and black pepper to taste.
Gently crush tomatoes in the can, add to Dutch oven, and stir to incorporate.
Bring to a boil, add steak back to the Dutch oven and reduce to a simmer. Cook for 2.5-3 hours until the steak shreds easily with a fork.
Black Beans: Cook beans according to package and season with salt, pepper, and 1 tsp each: cumin, paprika, black urfa chili, and oregano buds. Add ¼ tsp of ground laurel bay leaf.
Rice: Cook according to package instructions.
Serve with rice and beans, sweet plantains, and garnish with fresh cilantro.