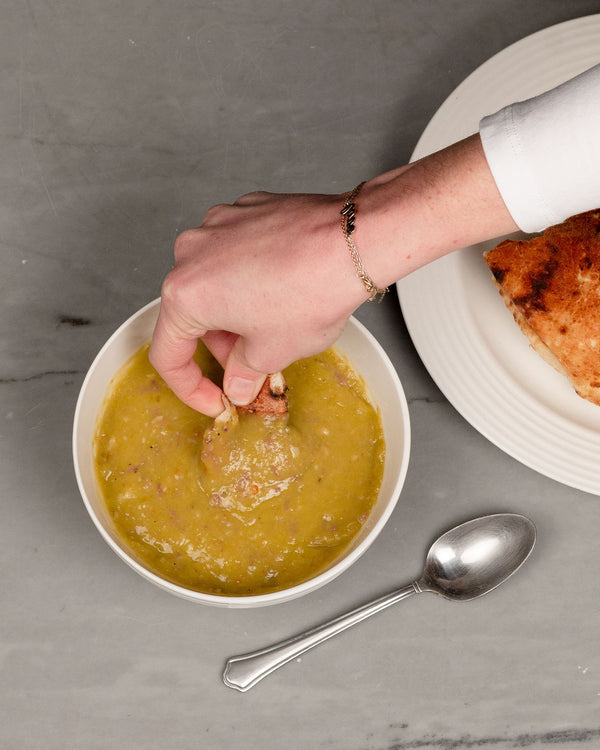 Roberta's Split Pea Soup
With the holidays over and our bellies still full from all those roasts, our appetites are turning towards simple, nourishing meals to keep us warm through winter. The ultimate example of course is soup. Soup is the last stop of the nose-to-tail gastronomic train — bones from heritage breeds make the best stock in the business. Carlo Petrini, the founder of Slow Food, proclaimed the best way to judge a restaurant is to try the soup – there is almost no margin of error when it comes to soup. One can't dupe on the soup.
One of our favorite soups to keep us warm in winter is of course Split Pea Soup.  Our friends over at Roberta's make one of the best in the game, enriched with our cured heritage hocks and powerfully smokey Benton's Bacon.

Ingredients:
12⁄3 cups green split peas

6 slices Benton's bacon, diced

1-2lb cured hock pieces

1 large carrot, finely chopped

1 medium onion, finely chopped

1 can Miller High Life or any lager

Kosher salt

Freshly ground black pepper
Preparation:
Set a large heavy-bottomed pot over medium-low heat and add the bacon. Sweat the bacon on low until it begins to soften, 5 to 10 minutes. Add the carrot and onion to the pot and cook until they soften and the onion is translucent, 5 to 7 minutes. Add the hocks with 3 quarts of water to the pot and increase heat until it boils. Turn it down and simmer for approximately 30 minutes.

Put the split peas in a strainer and rinse them very thoroughly with cold water. To the pot, add the split peas, beer, and additional water as needed to fully cover the peas. Add the beer to the pot along with a couple of pinches of salt and a few grindings of black pepper. Bring to a gentle simmer, cover, and let cook on low for 2 hours, stirring regularly and adding water as needed to keep the peas covered. The consistency should be like a thick puree. If it's not, continue cooking and stirring. It's not possible to overcook this soup. When it's done, remove the skin from the hocks, pull the hock meat from the bone, and add it back to the soup. Check the seasoning and serve.