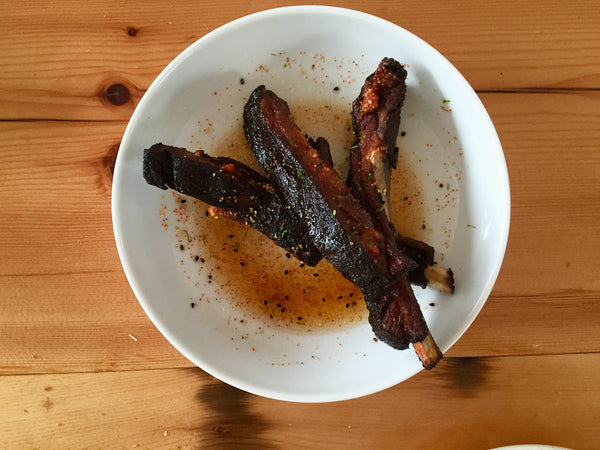 Roberta's Style Ribs
Roberta's Pizza in Bushwick, Brooklyn has become famous for their legendary pies but our favorite dish is their Smoked Ribs. The secret is in the honey vinegar and togarashi sauce. Chef Carlo uses a simple salt and pepper rub before smoking the ribs. If you don't have a smoker we recommend using this sauce on simple low and slow grilled ribs.
Togarashi is a common Japanese spice blend which brings heat from red chili peppers as well as bright citrus notes.
Honey Vinegar and Togarashi Sauce
Ingredients:
1 cup honey
1 cup apple cider vinegar
About 1 tbsp togarashi spice blend (or to taste)
Preparation:
*If you can't find this Japanese spice blend, we recommend substituting a mixture of ground red chili pepper, orange zest and black or white sesame seeds.
Combine the honey and apple cider vinegar in a small sauce pot and warm over a low heat allowing the honey to melt. Add togarashi to taste.
After the rack of ribs has been cooked and rested, cut into individual ribs. Serve in a bowl dressed generously with the honey vinegar and togarashi sauce.