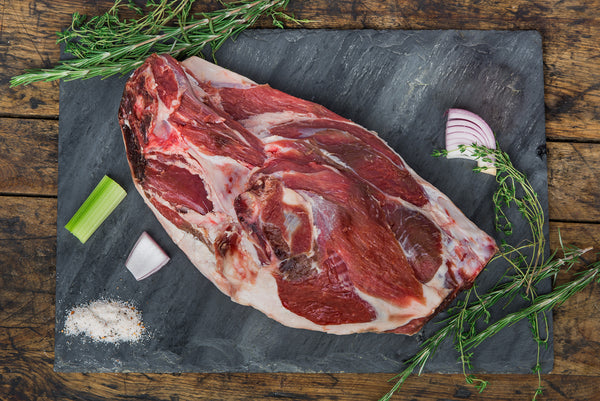 Roasted Leg of Lamb with Potatoes, Apples, & Citrus
We love hearing from our network of chefs!  Recently, Ryan DeNiccola, Executive Chef of chi Spacca wrote us about his experience with our Navajo-Churro lamb.
I enjoyed the Navajo-Churro lamb legs.  They ended up being fantastic.  I loved the richer, gamey flavor they had.  We de-boned them, rolled into a roast, slow roasted in the oven, and finish on the grill with pecorino polenta and rosemary lamb jus.  The wine dinner customers loved it.  It's a great story to tell, too!
Ryan's recipe sounds delicious!  We love the simplicity of Roasted Leg of Lamb.  Try this recipe for a citrus twist on an old classic.  The key is marinating the meat overnight and cooking the roast low and slow.  This recipe is great in the oven, and also does wonderful on the grill.
Ingredients:
1 5-7 lb lamb leg
1/2 lb fingerling potatoes
2 medium apples
2 lemons
1 orange
Freshly ground black pepper
Kosher salt
2 cups white wine
Preparation:
Marinade
Zest the lemons and cover the leg with the zest.
Season meat liberally with salt and pepper.
Slice the potatoes, apples, and citrus and arrange the slices so the leg is covered from top to bottom.
Wrap tightly with foil and place on a baking sheet.
Allow 24 hours to marinate in the refrigerator.
Roast
Remove from the refrigerator 2-3 hours before roasting, allowing the leg to come to room temperature.
Pre-heat oven to 250°F.
Unwrap the leg from the foil, and place back on the baking sheet or in a roasting pan if you have one large enough.
Add the fruit and juices from the marinade to the pan. Pour one cup of wine into the bottom of your pan and tent the leg with foil.
Place the leg in the oven and reduce temperature immediately to 200°F.
Roast the leg for 5-6 hours keeping a close watch. When the bottom of the pan is dry add the second cup of wine.
Once the leg reaches an internal temperature of 120°F remove from the oven. Turn the broiler on to high. Allow a few minutes for your broiler to heat up then place the leg uncovered back in the oven to brown.
When the meat reaches 130°F internal temperature remove from the oven, and let rest for 15 minutes.
Slice against the grain & serve.