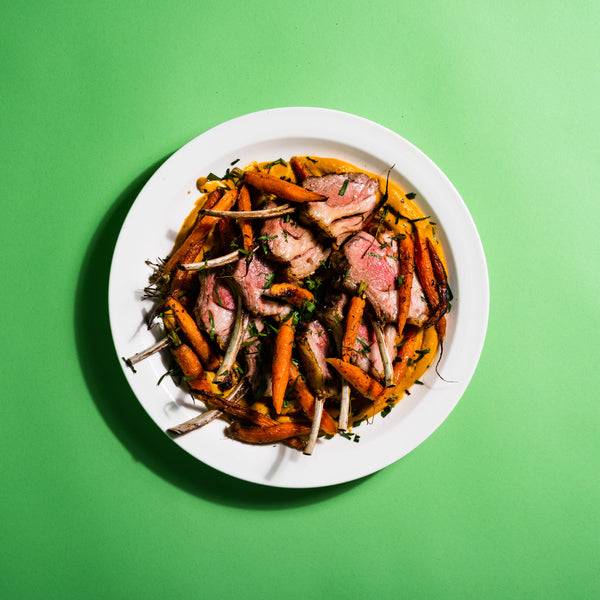 Roasted Lamb Rack with Lamb Fat Roasted Carrot Puree and Cracklings
Not all lamb is created equal. Heritage breed lamb is a true delicacy, one of the most refined and rarified meats that we sell. The rack, along with the chops, is the most delicate and succulent cut from the lamb, so we like to prepare it with a light hand, and add flavorful sides to accompany it. The carrot puree is one of our chef's favorite sidekicks to the heritage Tunis and Dorset Horn lamb, which we have become famous for.
Ingredients:
Salt and pepper

2 pounds baby rainbow carrots

2 tablespoons cumin seeds, toasted

1 head of garlic, cloves peeled and crushed

1 teaspoon chili flakes

2 tablespoons Lambrusco vinegar

1 tablespoon butter

2-3 sprigs thyme

¼ bunch of parsley, finely chopped

1 lemon
Preparation:
Trim the fat cap off the rack of lamb 3-4 inches from the top of the bone until right above where the eye of the rack begins. Trim and remove all the fat between the individual bones as well, scraping well with a paring knife and set all lamb fat aside. You may further clean the bones for an impressive display by using a clean kitchen towel to rub the remaining bits of fat and meat off the bones. Score the remaining fat cap below where you trimmed in a cross-hatch pattern lightly, being careful not to pierce the meat, and place on a roasting pan with a wire rack. This can be done the day ahead and you can leave the rack of lamb uncovered in the fridge to dry out a little more. Make sure you remove the rack from the fridge at least an hour before you cook it to bring it closer to room temperature before roasting.
Rendering the Lamb Fat
Rendering fat from any animal will follow this similar process. It will provide a nutritious and flavorful fat that you can use anywhere you would use lard, butter, or oil. 
Preheat the oven to 220 degrees F or set up a slow cooker on low.
Dice reserved fat into 1-inch cubes and add to small Dutch oven or pot with lid. Add 2 cups of water and place in your oven for 4-6 hours or closer to 7-8 for a slow cooker. The ideal rendering temperature is at or just above the boiling point of water (212 degrees F) so keep an eye on your pot as you don't want the fat to brown. Once most of the fat has rendered and water has boiled off, your remaining rendered lamb fat will be relatively clear. Pull off the heat and let cool for a half hour before straining through a fine mesh strainer. Save the remaining bits of fat to make cracklings. 
Making Cracklings
Spread the remaining fat bits in a 10-inch skillet and roast in an oven at 300 degrees F for about an hour till crispy. Strain out the additional rendered fat and place cracklings on a baking sheet lined with paper towels to remove the excess fat, then season with salt.
Roasting the Carrots
Preheat oven to 425 degrees F and line a baking sheet with parchment paper. Wash your carrots and trim off the green tops. Toss in a bowl with salt, pepper, 2 tablespoons of render lamb fat, toasted cumin seeds, garlic, chili flakes, and thyme and place on prepared baking sheet and roast until tender, about 30 mins.
Roast the Lamb
Preheat oven to 450 degrees F.
Season liberally with salt and pepper on all sides.
Sear on all sides in a hot pan until browned.
Move to a roasting pan lined with a rack. Wrap each individual bone with a small piece of foil. Cook for 15-20 minutes to develop an even crust, then lower the oven temperature to 300 degrees F and cook for another 30 minutes. Begin checking the meat every 15 minutes thereafter until the roast reaches your desired internal temperature (130 degrees F approximately for lamb that's medium rare.) The internal temperature will continue to rise slightly after leaving the oven. Let rest for 10-15 minutes before carving.
Carrot Puree
To a blender add half your carrots and roasted cloves of garlic, Lambrusco vinegar, another 1 tablespoon of lamb fat, and butter. Puree until smooth, adding water to thin if needed and season with salt to taste.
Serving
Remove the foil and carve the rack into individual chops.
Spoon the carrot garlic puree on the bottom of large platter. Top with the whole roasted carrots. Place the chops on top and garnish with your crispy cracklings, finely chopped parsley, and squeeze of fresh lemon juice, and enjoy!