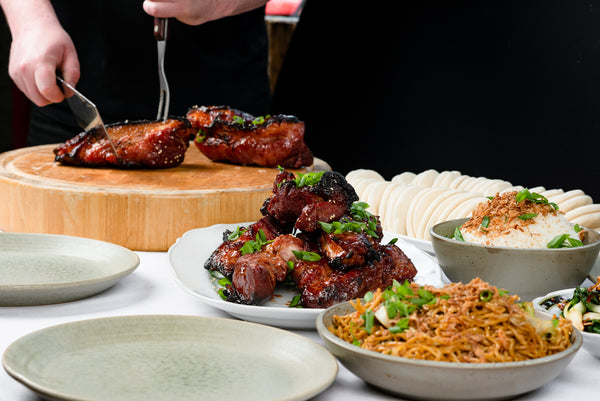 Recipe: Boston Butt Char Siu
Char siu literally means "fork roasted" (siu being burn/roast and cha being fork, both noun and verb) after the traditional cooking method for the dish: long strips of seasoned boneless pork are skewered with long forks and placed in a covered oven or over a fire. It's a Cantonese culinary tradition, and one that we cherish dearly.
For the Glaze and Marinade (makes about a Pint)
- 1/2 cup dry white wine
1/2 cup Chinese rose wine (mui kwe lu)

1/2 cup water

1/2 tsp fresh ground white pepper

1 tbsp red fermented bean curd

2 tbsp fermented bean curd liquid (from the jar)

1 tbsp red yeast rice

1/4 cup soy sauce

1.5 tsp sweet paprika

1 tsp ground cinnamon

3 cloves of garlic (minced)

1.25 cups maltose syrup 

3 tbsp cornstarch w/ 3 tbsp water for slurry
Add the wines to a sauce pot and bring to boil and reduce by half. Add water, white pepper, fermented bean curd, bean curd liquid, red yeast rice, soy sauce, paprika, cinnamon, garlic, maltose and stir well. (getting the maltose out of the container can be sticky so microwave in increments of 30secs til free flowing). Bring all to a boil and drop to simmer for 5mins, this can boil over quickly so keep an eye to prevent spillage. Strain all thru a chinois and return to the pot  Bring back to a boil and whisk in cornstarch slurry. Remove from heat and cool down.
For the Pork Butt
4lbs Pork butt
4 teaspoons salt
1/2 teaspoon pink curing salt
1.25 cups glaze plus more for brushing
Cut the pork shoulders into 1 inch by 2 inch by 6 inch strips and set aside in 1 gallon zip top bags. Mix the two salts in a large bowl. Add the glaze to the bowl and whisk thoroughly. Add the glaze to the bag and distribute evenly throughout the pork strips. Let marinate for 24 hours but no more than 48 hours.
Preheat oven to 400 degrees F. Line a sheet pan with aluminum foil and then a wire rack. On the rack, evenly space out pork shoulder and roast for 30 minutes. Turn over each piece of pork and brush with more glaze and roast for another 30 minutes until pork reaches around 145 degrees F. This can also be achieved on a charcoal grill on medium heat rotating slowly thru out and glazing as well for about 25-30 mins. Slice hot and serve immediately.
Serve in bao buns, lettuce wraps, or over rice.