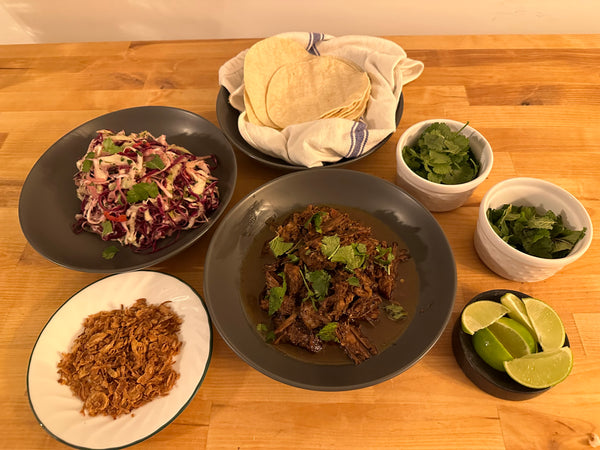 Pulled Pork Vindaloo with Fiery Cabbage & Red Onion Slaw
By Pervaiz Shallwani
The first pop up I ever held was for a concept I called "Indian Tacos," teaming up with the chef at a popular neighborhood Brooklyn restaurant that also happened to be my "Cheers," a real-life version of the TV sitcom bar "where everybody knows your name." I may be dating myself for the younger audience here. 
On Monday nights, my "Cheers" was bar only, so I teamed up with the chef to take over the empty kitchen. The idea was to take smaller street-style tortillas and pile them with two options, including a pulled pork play on a classic pork vindaloo curry. 
We roasted a pork shoulder in an industrial sized restaurant oven until fork tender and folded the meat into a tart and spicy vindaloo sauce. The meat was layered into tortillas with fried onions and cilantro, and served with tamarind red and mint-cilantro green chutneys. About 75 tacos were sold out in 45 minutes. 
I have long thought about how to do this at home, and when Heritage handed me a Red Wattle pork butt it was time to revisit the pulled pork vindaloo. Vindaloo is a dish best-associated with the Indian state of Goa, which was first colonized by Portuguese explorers and popularized by British conquerors.
"The Goan vindaloo or vindahlo is a dish adapted from the Portuguese 'Carne de vinha d'alhos' (that translates to meat of wine and garlic)," according to a history of the dish in Conde Nast Traveller. "The preparation is believed to have traveled with the Portuguese when they landed in Goa in the early 1500s. While the Portuguese recipe calls for the use of garlic, cloves, thyme, paprika, vinegar, wine and red pepper paste; the Goan version took on local influences such as Kashmiri chillies and palm vinegar."
Here we adapted a recipe from legendary Indian cookbook author Julie Sahni, taking all the spices in which pork is browned on the stove top and instead treating them like a paste that is massaged into the pork butt, before slow roasting it in the oven until the meat can be effortlessly shredded with a fork. 
Once fork tender, the pulled pork is folded into a thickened tamarind sauce made using the remaining ingredients. (Think barbecue sauce!) We serve the pork on tortillas like I did way back in 2011 as tacos, now with a spicy slaw, fried onions, lemon wedges and fresh cilantro, but there's nothing keeping you from making this a sandwich on a griddled hamburger bun or toasted bread.
NOTE: Pork shoulder sizes vary. The one used for this recipe was a nudge under five pounds.
Ingredients:
For the pork:
Kosher salt for dry rub, plus one 1 tablespoon for marinade
For the marinade:
1 large head of peeled garlic cloves

2 2-inch piece ginger, peeled and coarsely chopped

¼ cup apple cider vinegar

1 tablespoon ground turmeric

1 tablespoon ground cumin

3 tablespoons Indian red chili powder or red pepper flakes

3 tablespoons Kashmiri red chili powder or Hungarian hot paprika
For the sauce:
3 ounces of tamarind pulp roughly chopped (or 3 tablespoons of tamarind concentrate)

¼ cup olive oil

3 cinnamon sticks

10 cloves

8 green cardamom pods 

3 teaspoons black mustard seeds, coarsely crushed 

3 cups fine-diced onion
For serving:
Corn or flour tortillas

Fiery slaw (recipe below)

Lime wedges

Fried onions

Fresh cilantro
Preparation:
Fully defrost the pork butt in its package. Once defrosted, remove meat and dry thoroughly with paper towels. Using a sharp knife, crosshatch the fat cap, carefully using the tip of the knife to create a checkerboard-like pattern of incisions about 1-inch apart. Make sure not to cut into the meat. Generously salt the butt and place on a roasting pan outfitted with a wire rack.
In a food processor or blender, add garlic and ginger and pulse until minced. Scrape down the sides of the bowl, then add the vinegar, turmeric, cumin, chili powders, and salt and blend into a paste. Transfer marinade to pork and massage into the meat. Cover and set aside at room temperature for at least one hour and up to overnight. If refrigerating, remove the pork an hour before cooking.
Turn the oven to 450 degrees. Place lamb in the oven for 30 minutes, then turn temperature down to 300 and cook until meat breaks down and can be pulled apart easily with a fork — about 45 minutes to an hour per pound. (We did this with a 5-pound butt, which took about 3½  hours).
While the pork cooks, make the sauce. Place the tamarind in a bowl with five cups of hot water for about 30 minutes. Crush tamarind with a fork or your fingers to extract pulp clinging to fibers. Add another 2 cups of hot water and mix well. Using a fine mesh strainer set over a bowl use the back of a spoon, ladle or silicone spatula to strain the tamarind making sure to push through as much as possible until only the fibrous residue remains. Toss the residue and reserve the tamarind paste.
In a large sauté pan over medium-high heat, add the cinnamon, cloves, cardamom and mustard seeds and toast until sizzling and aromatic, about 4 minutes. Add the onion and cook, stirring often, until lightly browned, about 5 minutes. Add the tamarind juice and bring to a low boil. Reduce heat to medium-low, and cook until the sauce is well combined and thick about 30 minutes. Add a little water if the sauce gets too thick. Remove cinnamon sticks, cloves and cardamom pods. Set sauce aside.
Make the slaw about 30 minutes before the pork is ready.
Once the pork is ready, remove the crispy cross-hatched fat cap with a knife or scissors and chop into bite-sized portions. Shred remaining pork and add to the sauce. Stir until well combined. Serve with warm tortillas, slaw, lime wedges, fried onions, fresh cilantro, and crispy pork skin.
— Adapted from cookbook author Julie Sahni
Fiery Cabbage and Red Onion Slaw Recipe
Ingredients:
1 pound shredded green cabbage 

1 thinly sliced small red onion

½ cup minced fresh mint and cilantro leaves

1 to 2 minced serrano chilies

1 tablespoon juice from 1 lime, plus more to taste

Kosher salt
Preparation:
In a large bowl, combine cabbage, onion, herbs, chilies, and lime juice. Season with a big pinch of salt and massage to soften slightly. Taste and season with more salt or lime juice to taste.
Pervaiz Shallwani is an award-winning journalist and trained chef based in Brooklyn, where he runs a hot dog popup called "Chaat Dog" — a mashup of his Chicago upbringing & Pakistani heritage — and a Substack called "Stinky Lunch Kids Strike Back: The story of American food." His approach to cooking: learn the rules and then use that knowledge to break them. He promises to eat anything (edible) at least once.