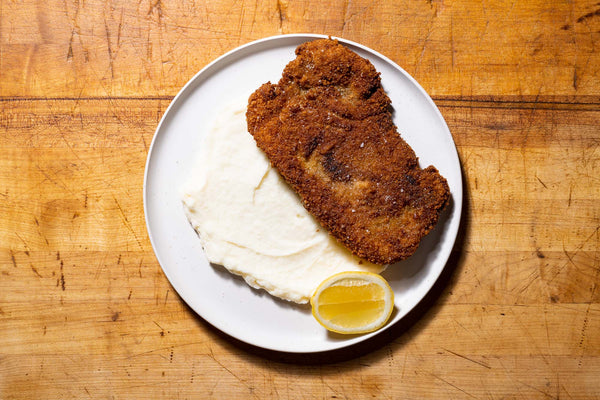 Pork Shoulder Steak Schnitzel and Mashed Potatoes
Whether you call it Pork Milanese, Scaloppine, or Schnitzel, one thing always holds true: a thin breaded slice of heritage pork loin is one of the tastiest meals on the planet! The standard 3-step breading technique calls for dredging meat in flour, then egg wash, and finally breadcrumbs. It is simple to do at home and makes for satisfying results every time! Our new bone-in boston butt steaks are a great cut to use for this delicious (and fun) preparation.
Ingredients:
For the Schnitzel:
1 pack of Pork Shoulder Steaks (thawed, removed from package, and patted dry with paper towels)

2 cups AP flour

3 eggs, lightly beaten

2 cups panko bread crumbs

1 pint of neutral oil

1 lemon sliced into wedges
For the Mashed Potatoes:
1lb yukon gold potatoes

1 sprig of rosemary

2 cloves of garlic

2 tbsp butter

¼ cup whole milk
Preparation:
For the Schnitzel:
In three ¼ sheet pans or wide bowls, place each flour, eggs, and panko bread crumbs.
Season the bread crumbs and flour with salt. Beat the eggs lightly.
First, dredge each shoulder steak in flour on both sides with your "dry hand."
Place floured shoulder steak into eggs, and with your "wet hand" flip and coat both sides in egg.
Place shoulder steak in breadcrumbs and with your "dry hand" cover all sides with bread crumbs. Repeat with second shoulder steak and place on a sheet pan with a wire rack.
Preheat 1 pint of neutral oil in a large cast iron skillet until a thermometer reads 350º F.
Fry each shoulder steak, one at a time, in the oil for 2-3 minutes per side moving often to prevent burning. Repeat with the second shoulder steak.
Drain to a sheet pan with a wire rack and season with salt on both sides immediately after frying.
For the Mashed Potatoes and Serving:
Meanwhile, in a large pot of salted water, place potatoes, rosemary, and garlic. Bring to a boil, reduce to a simmer, and cook until tender for about 25 minutes.
Drain potatoes and pass through a potato ricer into the original pot, add milk and butter, mix and season with salt if necessary.
Plate mash potatoes on the bottom of the plate top with pork shoulder schnitzel and serve with a lemon wedge.