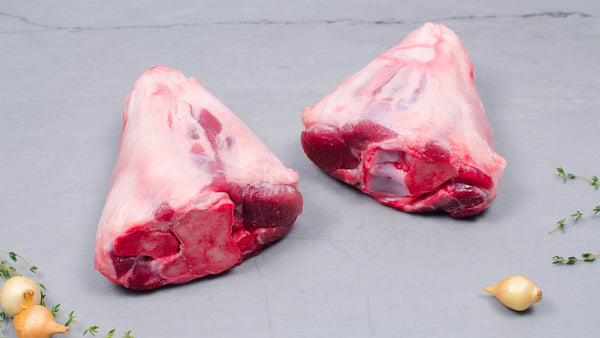 Pork Shanks with Anchovy Sauce
This recipe comes from Danny, a long time customer, adventurous cook and charcutier. If you like this recipe check out his Three Day Cured Sweet Pork.
We love hearing about the different recipes and technique you use. Share them with us and we'll post them here on our Blog!
Ingredients:
3 skin-on heritage pork shanks, 6 to 8 lbs total
4 cloves garlic, smashed
1 large onion, chopped
2 medium tomatoes, chopped
1/2 teaspoon red pepper flakes
2 Tablespoons vegetable oil
2 cups hot water
Optional garnish: 1 chopped green onion and 2 Thai chili peppers
Preparation:
1. Heat the oil in a large heavy-bottomed Dutch oven over medium heat.
2. Saute the garlic for 1 minute.
3. Add the onions and cook until soft, about 6 minutes.
4. Stir in the red pepper flakes, then add the tomatoes. Cover and cook for 3 minutes.
5. Stir the onions/tomatoes mixture and distribute evenly at the bottom of the pot.
Arrange the pork shanks on top and add 2 cups of hot water.
Bring to a boil, reduce heat, cover and simmer for 2 1/2 to 3 hours until the bones
start to loosen from the meat (turn over and re-arrange the shanks every 30 minutes).
6. Using tongs and a dull knife, make a single cut thru the skin and muscle (lengthwise)
on each side to expose the bones.
7. Scatter the anchovies on top of the shanks. Cover and cook 30 to 45 minutes more.
8. Pull out the bones and discard. Increase the heat to thicken the sauce; stir frequently
and scrape the bottom of the pot to prevent forming a crust, about 20 minutes.
9. Turn off the heat. When cool enough, transfer the meat and skin to a large platter.
Strain the sauce; discard the solids.
10. Chop the bigger pieces of meat/skin into 2-inch pieces. Return to the pot, add the
strained sauce and stir over medium heat for 2 to 3 minutes.
11. Transfer to a serving dish, add the garnish if using.
12. Serve with white rice or warm tortillas or ice-cold Beer.