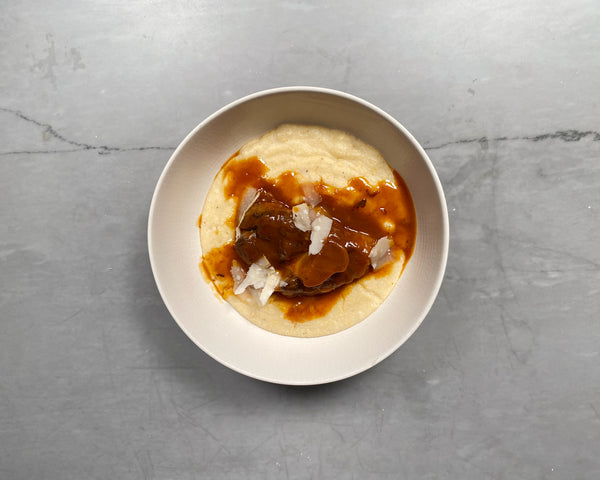 Pork Osso Bucco with Anson Mills Polenta
Traditionally, beef osso bucco is served in a veal stock and tomato-based sauce thickened with flour. Pork lends itself to a lighter preparation using chicken stock and a puree of the cooking vegetables to lend body to the sauce and pairs perfectly with classic cheesy polenta and gremolata. This recipe is enough to serve 6 a hearty dinner, but if you have extra, try one of our suggestions for leftovers!
Pork Osso Bucco with Anson Mills Polenta
8 pcs

pork osso bucco (~2 packs/6lb)

salt and pepper

extra virgin olive oil

1 ea

white or yellow onion, peeled and large diced

2 pc

celery rib, large diced

1 ea

carrot, peeled and cut into 3 or 4 large pieces

2 ea

garlic cloves, crushed and cut in half or thirds

¼ cup

tomato paste

1 cup

white wine

8 cups

chicken stock

2 ea

bay leaves

4 ea

thyme sprigs

1 ea

rosemary sprig
Preparation:
Remove the osso bucco from refrigeration 30 minutes to an hour before cooking. Heat oven to 300F. Season all sides of the osso bucco with salt and pepper. Heat 2T olive oil over medium high heat in a large dutch oven and sear the pieces on all sides until evenly browned. Reduce heat to medium and carefully remove them from the pot to rest nearby while you prepare the cooking liquid.
Add onion, celery, garlic and carrot to the pot along with pinch of salt. Stir occasionally until your vegetables soften and start to brown. Add tomato paste and continue to cook, stirring until the paste coats the vegetables takes on a deeper color. Pour wine over the vegetable and stir to deglaze and release the browned bits on the bottom of the pan. Allow this mixture to simmer briefly until the wine thickens, then incorporate chicken stock, thyme and rosemary. Nestle the osso bucco in into one layer ensuring the broth nearly covers them. You can add a cup or so of water if needed at this point.
Bring the pot to a low simmer, cover and move to the oven to cook for around 2.5 hours, until flesh is tender but the pieces hold together. Discard the carrots and herbs from the pot and allow everything to cool 15-20 minutes before moving the osso bucco pieces to a plate or wide bowl while you finish your sauce. 
Make the sauce: Use a hand blender or food mill to puree the braised onion and celery into the liquid. Return the pot to the heat and bring to a boil, reducing for a few minutes until it coats the back of the spoon, add the osso bucco back in and simmer, spooning sauce over the meat.
For the polenta:

7c

chicken stock or water

2c

Anson Mills fine yellow polenta

2T

butter

½c

grated Parmigiano Reggiano, plus more to finish
Bring stock to a boil over high heat the reduce to medium. Whisking quickly with one hand, gradually shake out the polenta with the other over the moving whisk to minimize lumps. Once fully incorporated, season the pot with a few generous pinches of salt. 
Reduce the heat to low and mostly cover with a lid, leaving a crack to allow moisture to escape. Bubbles should occasionally break the surface, no more or the polenta may stick to the bottom and scorch. Whisk the polenta every 10 minutes for around 40 minutes until the largest granules are soft. Taste and season the polenta again and mix in the butter. 
For the gremolata:
¼c Sierra de Cazorla Olive Oil
1ea small garlic clove, grated or minced
½c picked parsley leaves, loosely packed
zest of one lemon
Chop parsley with a sharp knife to your desired texture, then combine with all other ingredients.
TO SERVE:
Stir Parmigiano Reggiano into the polenta. Ladle or spoon into a wide bowl, top with grated parmigiano, place osso bucco on top adding more sauce over the meat and drizzle everything with gremolata. 
Suggestions for leftovers:
Crispy pork and fresh tomato basil pasta:
Pick the leftover osso bucco into smaller pieces and crisp the meat in a hot pan with olive oil and sliced garlic, add a pinch of chili flake and toss in diced tomatoes or halved cherry tomatoes, cooked pasta and fresh basil leaves. Shave Parmigiano Reggiano over top and enjoy!
Pork and sweet onion sandwich:
Add ½" sliced red onion to a hot pan with olive oil and toss or stir continuously for a few minutes over high heat until the edges brown and the onions are a bit translucent. Season to taste and splash with red wine vinegar. Spread mayo lightly on both sides of a halved and toasted baguette, then lay on onions and hot braised pork, top with roasted peppers or pickled hot peppers and pile with arugula. Drizzle the greens with olive oil and vinegar before digging in.