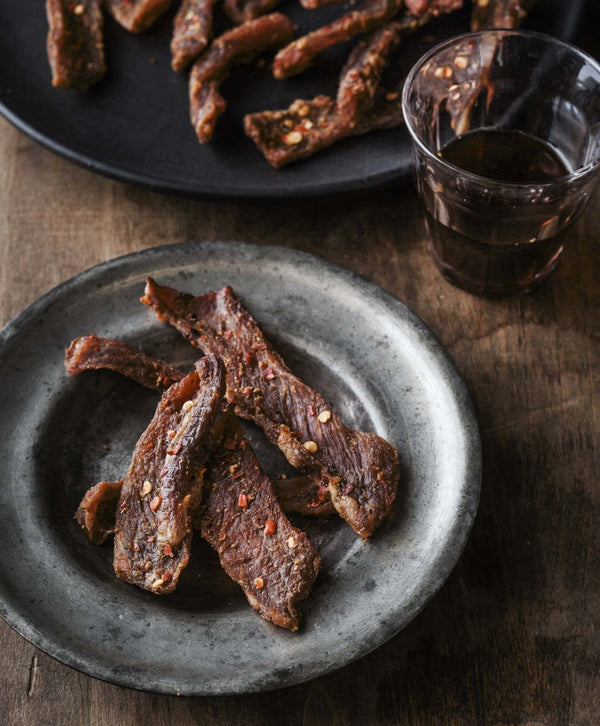 Pork Jerky Recipe from our friends at Fatted Calf Charcuterie
While beef has always dominated the jerky market, pork is also a great option — and is of course our favorite here at Heritage Foods.Our friends at Fatted Calf Charcuterie (located in San Francisco and Napa, CA) make a rotating variety of pork jerkies for sale in their shops, but their favorite is The Bitter Pig, from their book Jerky.
"We love the curious collection of herbal distillates known as amari in drinks or as a post-feast digestivo but we also like to pour a splash into a sauce or marinade. These beguiling Italian elixirs add an elusive quality, a delicate herbal finish that leaves you musing. In this recipe, the amaro, combined with allspice, chile and orange zest, make this pork jerky sophisticated enough to serve as a snack with cocktails."
Ingredients:
2 pounds pork leg or boneless loin cut into 3-4" strips

2 teaspoons anise seed

4 allspice berries

1 tablespoon plus 1 teaspoon fine sea salt

1 tablespoon chile flake

½ teaspoon grated and finely chopped orange zest

2 tablespoons amaro such as Averna
Lightly toast the anise and allspice in a skillet over low heat until fragrant. Let cool to room temperature then grind finely in a spice grinder.
Place the strips of pork in a shallow bowl or container. Season with salt then add the ground spices, chile flake, orange zest and amaro. Use your hands to mix well, evenly coating the strips with the marinade. Cover and refrigerate for at least 3 hours or overnight.
When you are ready to dry the pork, remove the marinating meat from the refrigerator. Place the strips on the dehydrator racks, making sure that no strips are overlapping or touching. Set the temperature to 145˚ F. Insert the racks leaving as much space between each rack as possible. Dehydrate for 1 hour and 15 minutes. Remove each rack and turn so that the racks are inverted front to back. Continue drying in the dehydrator for an additional hour and fifteen minutes or until the strips are firm and dry but still pliable.
Allow the bitter pig jerky to cool at room temperature then transfer to a container and place in a cool, dark location for storage. This jerky keeps well for up to 3 to 4 weeks.