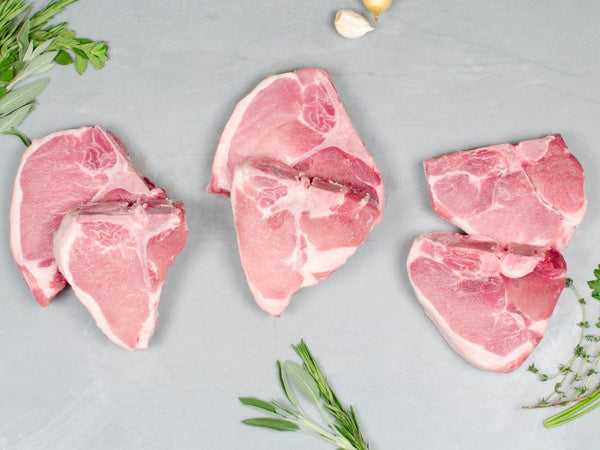 Pork Chops with Apples and Calvados by Chef Erica Wides of the Institute of Culinary Education
Ingredients:
2 tablespoons canola oil
4 Pork porterhouse chops, 1″ in thickness
Salt to taste
Pepper to taste
1/2 stick (4 tablespoons) butter, softened
2 Granny Smith apples (peeled, cored and sliced into 4 rings)
1/2 cup Calvados (apple brandy)
1 cup heavy cream
Preparation:
Preheat oven to 450
1. Preheat a sauté pan and add the canola oil.
2. Season the pork chops with salt and pepper and quickly brown in the skillet then arrange in a buttered baking pan or casserole.
3. In the same skillet melt the remaining butter and sauté the apple rings until they begin to brown slightly. Arrange the apples on top of the pork chops.
4. Carefully add the calvados to the pan and, averting your face, allow it to ignite. When the flames subside add the heavy cream to the skillet and bring to boil, scraping up the browned bits from the bottom of the pan. As soon as the cream comes to a boil, pour it over the pork chops and apple slices.
5. Place the pork chops and apples in a pre-heated 450º F. oven for 15 minutes or until the pork chops are tender. If the cream reduces too much during cooking, add more as necessary to maintain the cooking liquid without burning. Remove from the oven and serve.
Erica Wides has been a Chef and Culinary Instructor for 18 years. She's been teaching at the Institute of Culinary Education (ICE) in New York City for the past 12 years, and is also a personal chef, consultant, and private teacher. She began her cooking career in New York at Nosmo King, before moving on to Zoe, Savoy, and Arcadia. She was also Sous Chef at Quisisana, a summer resort in Maine. She has done extensive curriculum development for ICE, and recipe development for various clients. She appears regularly on TV in the New York area, and is currently working on several book projects. Erica also teaches "on the road", as a guest instructor at The Culinary Vegetable Institute in Milan, Ohio, In Singapore, at At-Sunrice Culinary Academy, and in Tokyo, Japan at Culinary Salon Uno.
Don't miss her show Let's Get Real on Heritage Radio Network!
The post Pork Chops with Apples and Calvados by Chef Erica Wides of the Institute of Culinary Education appeared first on HERITAGE FOODS USA.