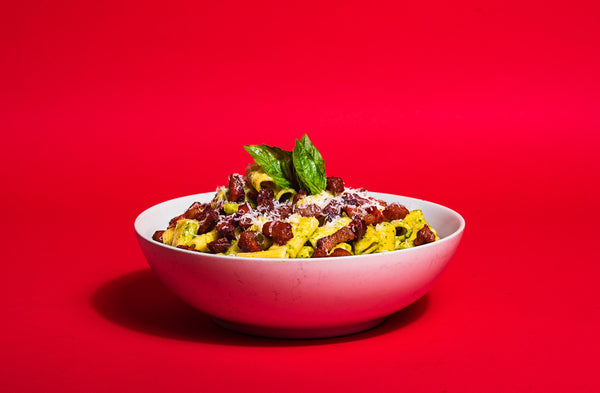 Pesto alla Gricia Pasta Kit
Savor the final weeks of summer with this delectable dance of two Italian regions — Pasta alla Gricia from Lazio and Pesto Genovese from Genoa. Showcase this pasta for a weeknight meal or as a centerpiece for your next dinner party! 

Each kit comes with a recipe card and every ingredient you need (except the fresh basil) sourced from some of our favorite food businesses:
Heritage Berkshire Guanciale, 16-20 oz piece, an Italian-style cured pork jowl perfect for cooking in pasta by Tempesta Artisans
Classic Pesto*, 6.5 oz package, traditional Italian-style pesto with Parmigiano Reggiano, pine nuts, extra virgin olive oil, and sea salt from Gotham Greens
Parmigiano Reggiano, 8-10 oz, The King of Italian cheese — aged 24 months to sweet and nutty perfection. Raw milk, produced in Italy.
Semolina Artisanal Rigatoni Pasta, one 1lb box, traditional, slow-dried, full-flavored organic durum semolina pasta made in California
Single Origin Extra Virgin Olive Oil, two 1 oz bottles, Olive Oil Jones, unfiltered early harvest from Sicily 
Recipe
Cook Time: 20 minutes. Serves: 4.
Included Ingredients:

1lb box Semolina Rigatoni

3⁄4 package of Gotham Greens Pesto

8 oz Guanciale cut into small cubes

2 oz Parmigiano Reggiano (plus more for garnish)

Two 1 oz bottles Olive Oil
Additional Ingredients:

Basil for garnish (optional)

1 cup pasta water

1⁄4 cup pork fat (from cooked guanciale)
Preparation:
Boil 3 quarts of water with enough salt to make it brackish. Once boiling, add pasta and stir for 30 seconds (to prevent sticking). Cook pasta for 5 minutes and 30 seconds.
Drain pasta and reserve 1⁄2 cup of starchy water. Set pasta aside.
In another pan, add guanciale and cook over medium heat until brown on all sides, about 6 minutes.
Remove guanciale from the pan and set aside. Keep about 1⁄4 cup of fat drippings in the pan.
Add the pasta water to the pan and bring to a boil.
Lower the heat and add cheese until melted and stringy then add the pesto. Stir in the pasta, half of the cooked guanciale, and olive oil as needed to fully coat the pasta with the sauce.
Top with remaining guanciale, cheese, and basil to garnish. Enjoy!