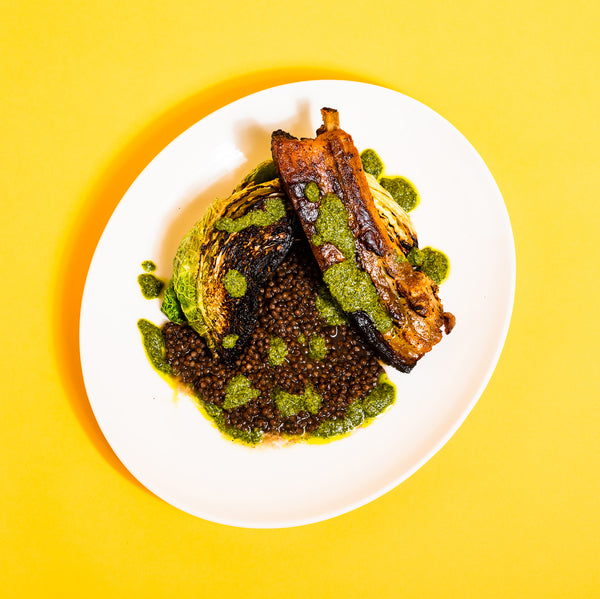 New Cut! Pork Belly Chops
We source our Berkshire pork from farmer David Newman, the best in the business. His talent extends far beyond the farm and even onto the cutting floor. During a carcass fabrication for a chef friend, David came up with the groundbreaking idea for a bone-in pork belly chop, "As far as I know no one has ever tried it before on any level, mostly because of the way it devalues both the belly and spare-rib."
If anyone would know, it would be David. He is quite proud of his creation, as he should be. "It is an AMAZING and unique cut. Think eating a roaster pork belly, an amazing spare-rib, and a bone in pork chop all at the same time. The word succulent comes to mind!" 
Chef Q prepared a recipe that highlights the unique characteristics of this cut.
Ingredients:
4 bone-in pork belly chops 

1 cup light brown sugar

1 cup kosher salt

2 teaspoons cracked black peppercorns
Preparation:
Remove the chops from their packaging and pat dry with a paper towel. Using a sharp knife, score the skin side in a ¼" cross-hatch pattern. Place in a large glass baking dish.
In a large mixing bowl, combine sugar, salt, and pepper. Pour the seasoning mixture over the chops and turn to coat well. Make sure chops are buried in the cure, including on the bottom of the dish. Cover and refrigerate for 2 days. 
Preheat oven to 450 ℉ and line a sheet tray with aluminum foil. Remove chops from cure and brush off any excess seasoning. Place chops on prepared tray then roast 45 minutes – 1 hour, until golden brown. Reduce oven temperature to 250 ℉ and cook another 30-45 minutes, until tender but not falling apart. Remove from oven and let cool completely. 
Once chops are cool, preheat a cast iron pan on medium-high heat until hot. Starting with the skin side down first, sear the chops on all sides until golden brown and crispy.