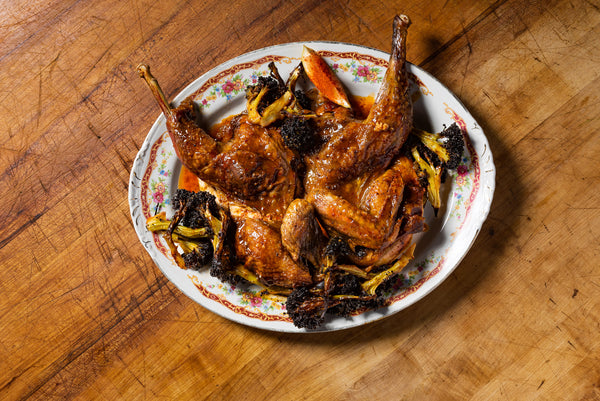 'Nduja Butter Stuffed Guinea Fowl
Inspired by the classic combination of Calabrian chili and honey this roasted spatchcocked Guinea fowl is stuffed with 'nduja butter, charred garlicky-broccolini, and a sweet chili broth.
Ingredients:
4.5oz package of 'nduja (room temp)

8oz unsalted butter (room temp)

4-4.5# guinea fowl

3 cloves of garlic, sliced thinly.

1 bunch of broccolini or broccoli rabe or head of broccoli

2 lemon, juice of 2 and zest of 1 (one for guinea, one for broth)

¼ cup of chicken broth 

2 tablespoons of honey
Preparation:
Preheat an oven to 425 F degrees
Pull thawed chicken out of the package and remove any neck/giblets and pat dry inside and out.
Using kitchen shears clip down both sides of the backbone and remove. 
Place guinea fowl on a cutting board breast side up and press hard in the center to flatten and using your fingers slightly loosen skin from the breast and thighs to make a pocket.
In a medium mixing bowl mix together 'nduja and butter until smooth. 
Take a few tablespoons of 'nduja butter spread out under the skin of the breast and thighs. Season the Guinea Fowl with salt, the 'nduja will have some salt, don't overdo it. You will have some leftover 'nduja butter, place it in the refrigerator to chill.
In a mixing bowl take broccolini and mix with sliced garlic and toss in olive oil and season with salt and pepper.
Place the stuffed spatchcocked guinea fowl on a sheet tray surrounded by the broccolini and roast until the thickest part of the thigh reads 155F degrees, this will rise slightly 5-10 degrees while resting.
In a small saucepan bring to boil chicken stock and stir in honey and add 1-2 tablespoons of the remaining 'nduja butter into the stock, whisking vigorously to emulsify the butter into the broth. Season with salt and 1 zested and juiced lemon.
Plate the guinea fowl and broccolini on a platter and squeeze juice of one lemon over the top. Pour broth around the Guinea Fowl and broccolini and enjoy.