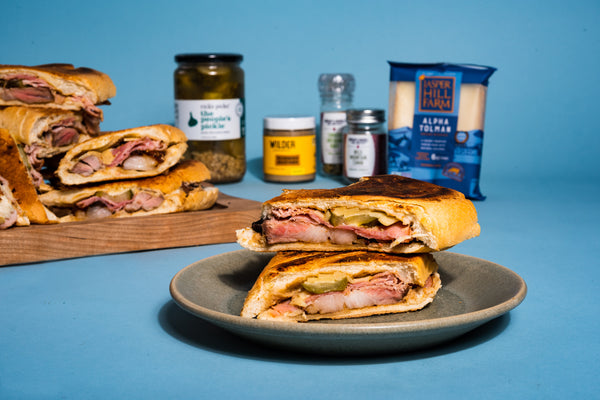 Cubano Sandwich Meal Kit Recipe
Mojo Marinated Roasted Heritage Pork and Shaved Ham Cubano
Any pantheon of the world's greatest sandwiches would include the Cubano (along with the Banh Mi from Vietnam; the Bacon, Egg, and Cheese from NYC; and the Jambon Beurre from France!), that is if you define a sandwich as two pieces of bread (not buns!) surrounding a meat.
The Cubano originated in Cuba but expatriates in Miami made the sandwich mainstream. There are however regional arguments for the sandwich's origins in the U.S., including in Atlanta and Tampa, where salami is often included.
Shop the kit here!
Cook Time: 2 hours, plus marinating
Serves: 4-6 people
Included Ingredients:
Additional Ingredients:
1 head of garlic, minced 

Juice of 3 limes

Juice of 3 lemons

Juice of 2 navel oranges

Juice of 1 red grapefruit

2 tablespoons white wine vinegar

½ bunch of cilantro, finely chopped (stems included)

½ medium onion, diced

Soft Cuban bread from a Latin American bakery (alternatively a soft Italian or French bread 8-12inch)
Preparation:
Remove Boston butt and score the fat cap in a cross-hatch pattern with a sharp knife and season liberally with salt, then place in a one gallon zip top bag.
Mix the juices, spices, vinegar, minced garlic, diced onion, and chopped cilantro in a medium bowl and add to the bag. Marinate in the fridge overnight or for at least six hours. Occasionally turn over in the fridge to evenly distribute the marinade.

Roast the Boston Butt:
Preheat an oven to 400 degrees F. Remove the Boston butt from the marinade and place on a baking sheet with a wire rack, let come to room temperature. Roast for 45 mins to 1hour, flipping the roast half-way through cooking, The roast will char nicely creating a nice crust. Set aside to cool completely. Slice roast into ¼ inch slices.

Cut the bread in half lengthwise, open and spread mustard to your liking on either side of the bread.
On a lightly buttered griddle or cast iron pan over medium heat, stack roast pork slices, shaved ham, and sliced alpha toman and cook until the pork develops a nice crust, 1-2 mins.
With a spatula, transfer stacked pork and cheese to the bread, add pickles, then the top piece of bread. Return the sandwich to your griddle or pan and weigh down with a bacon press or another heavy pot. Toast the sandwich about 2 minutes per side or until bread is golden brown. Enjoy with plantain chips.