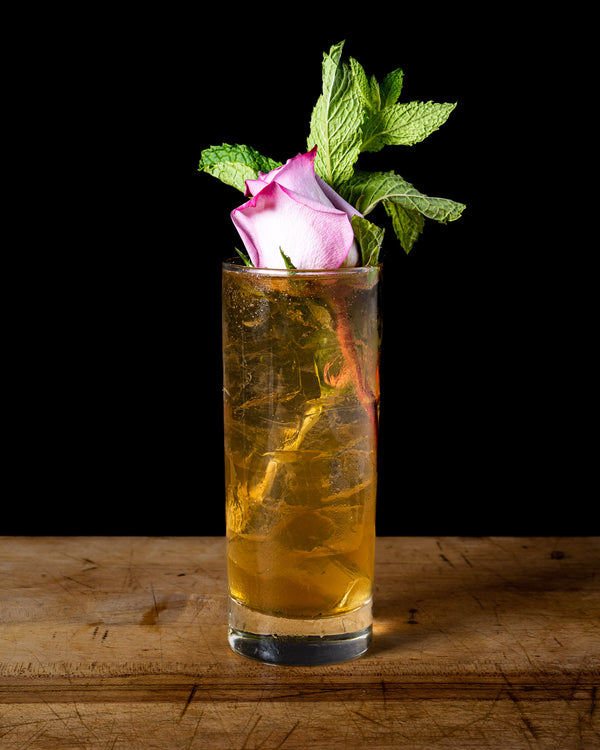 Persian Julep Cocktail
The word julep is derived from the word gulab, a Persian term for rosewater. As Juleps traveled around the world, mint came to replace the rosewater. Our in-house bartender, Matt, put the rosewater back! In the U.S., Juleps call for Bourbon, a booze local to Kentucky, where the drink traces its lineage. This gives us a chance to use one of our favorite distillers, the Van Brunt Stillhouse in Brooklyn. This Julep was designed to pair beautifully with our pistachio rubbed lamb leg recipe.
Ingredients:
handful of mint leaves

½ oz rosewater simple syrup

2 oz Van Brunt Stillhouse bourbon
Preparation:
In a cocktail shaker, lightly muddle the mint leaves and 1/2 oz of rosewater simple syrup. Add 2 oz of bourbon and ice. Shake for 5-10 seconds until the shaker is completely chilled.
Strain into a highball glass over fresh ice. Garnish with mint and rose, if desired.
Preparation of rosewater simple syrup: 
Add one cup boiling water to one cup white sugar, stir and add one tablespoon of rose water to infuse the flavor into the syrup. Great for substitution in any cocktail that calls for simple syrup. Lasts in the fridge for up to two months. 
Recipe from Matt Botkin, our in-house professional bartender!
Pair with Pervaiz Shallwani's Pistachio, Citrus, and Garlic Roasted Leg of Lamb with Charred Cabbage and Mint & Parsley Chimichurri.