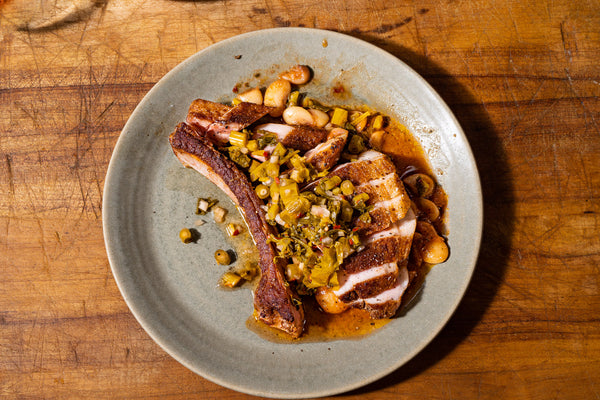 Leland's Pork & Beans
Leland Eating and Drinking House in Prospect Heights, Brooklyn serves a delicious rendition of the classic pork and beans. The marinated beans and pickled rapini relish provide a perfect balance of acidity for their cured heritage pork chops.
Ingredients:
Marinated Beans
1 quart dried gigante beans
½ cup sherry vinegar
1 tablespoons paprika
1-2 cloves garlic grated
1 tsp black pepper
1 tsp dried marjoram/oregano
16 oz olive oil
Salt to taste
Pickled Rapini Relish
1 qt rice wine vinegar

1 qt water

1 cup sugar

1/2 cup kosher salt

1 head garlic halved

1 sprig thyme

2 bay leaves
1 broccoli rabe/rapini chopped

1 small diced red onion

1 tsp crushed chili flakes
Pork Chop
bone-in pork loin, sliced into chops
salt
pepper

1/2 cup smoked paprika

1/2 cup ground coriander

1/2 cup ground fennel seeds

1 tbspn dried oregano/marjoram
Preparation:
Marinated Beans
Soak dried gigante beans in water (at least 2:1 ratio of water to beans) overnight. Bring the beans to a boil and then simmer until tender. You might need to add more water during this process.

Once cooked and cooled, bean water will be used but only about half as much as there are beans.

In a large bowl, combine beans, vinegar, garlic, spices, and oil, and mix well.
Rapini Relish Pickle
In a pot, combine rice wine vinegar, water, sugar, salt, garlic, thyme, and bay leaves, and bring to a boil. Remove from heat.

In a heat proof container, add broccoli rabe, red onion, and crushed chili flakes. Pour hot pickling liquid over the relish mix. Stir well to combine and store in the refrigerator. For best results, prepare at least a day before you plan to eat them.

Pork Chops
In an airtight container, combine the spices and mix well.

When curing/seasoning the pork chops, start with salt and pepper first (to taste). Then generously cover the chops with the seasoning mixture. For best results let the pork chops cure for 2-3 days. After 5 days of curing, the chops are ready to cook. Feel free to vacuum seal them and save for later use.
Preheat a heavy bottomed pan over medium-high heat until just about smoking. Add a tablespoon of oil and sear chops for 3-9 minutes on each side depending on its size. For pieces with a fat cap, try to render the fat on its edge for an additional few minutes. Cook until desired internal temperature is reached (140-145℉ for pork). Keep in mind will the temperature will rise as the meat rests.
After 5 minutes of resting, slice the chops and serve with marinated beans and pickled relish.