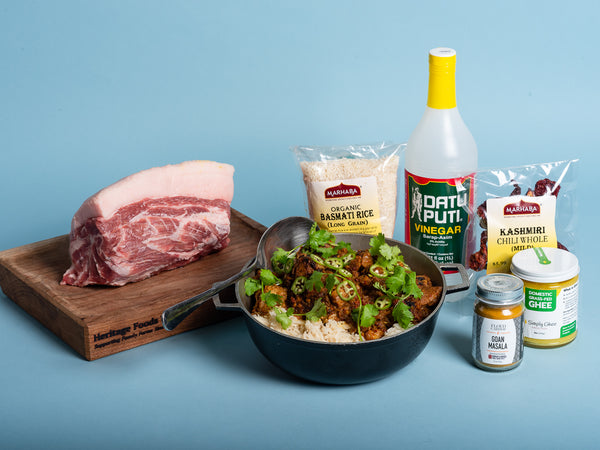 Heritage Vindaloo Dinner Kit and Recipe
Introducing a new Dinner Kit — Heritage Vindaloo! This is our take on the classic dish from Goa by way of Portugal. The kit includes a 3-4lb Heritage Boston Butt, Goan spice blend developed by Chef Floyd Cardoz and produced by Burlap & Barrel, Simply Ghee's toasted clarified butter sourced from grass-fed cows in Lancaster, PA, cane sugar vinegar from Datu Puti, Basmati rice and Kashmiri chilis from Kalustyan's — the legendary spice shop in New York City's "Curry" Hill. Chef Floyd Cardoz, an early supporter of Heritage Foods, dedicated his life to sharing Indian flavors with the world, and this Goan spice blend fulfills that mission deliciously.
The kit includes a recipe card that calls for additional produce for you to purchase — chilis, cilantro, garlic, ginger, and onion. While we associate vindaloo with Indian cuisine today, it has Portuguese origins. Portugal colonized Goa in 1510 and ruled until 1961. As with any colonial rule, cultures blend. Vindaloo is based on the Portuguese dish carne de vinha d'alhos, which means "meat marinated with garlic and wine." Local Goan cooks swapped the wine for vinegar and included their preferred spices. The name of the dish was localized into vindaloo. In Hindi, aloo means potato, and those unfamiliar with the dish's Portuguese roots included potatoes, a practice still common today.
Colonial cultures always blend. For example, we recognize tempura as Japanese technique of lightly battered and fried food. This culinary technique comes from the Portuguese too! The Japanese were no strangers to frying food before the arrival of the Portuguese in Nagasaki in the late 16th century. However, they typically fried their food in rice flour or no breading or batter at all. Portuguese missionaries and merchants shared their batter recipe consisting of water, wheat flour, and egg. As Catholics, they did not eat meat on certain holy days called ember days. Some argue that the Latin translation of ember days — Quattuor Tempora — provides the name tempura. However, others argue the Portuguese word for seasoning — tempêro — is the origin of tempura.
Included Ingredients:
3-4 pound pork boston butt

¼ cup Burlap and Barrel Goan Masala

2oz pack Kashmiri chilis

¼ cup Datu Puti Cane vinegar

¼ cup grass fed ghee

Kalustyan's Basmati rice, cooked
Additional Ingredients:
2 onions, thinly sliced

1 head of garlic, cloves peeled
1 inch piece of ginger, peeled and minced
1 green serrano chili, thinly sliced, to garnish
cilantro for garnish
Preparation:
Cut pork into 2 inch cubes and set aside in a gallon sized zip top bag or container with lid.
In a blender or food processor, combine the masala, garlic, ginger, Kashmiri chilis, and vinegar. Puree to a smooth paste, adding more vinegar if the paste is too thick to blend. Pour the paste in to the container with the pork and massage evenly throughout. Marinate for at least 12 hours or overnight.
Heat a large pot or Dutch oven over medium high heat. Remove the pork from the marinade, reserving leftover marinade. Add the ghee to the pot and then, working in batches, sear the pork until evenly browned on all sides, then remove to a plate. 
To the same pot, add in the onions and cook, stirring frequently, until lightly browned. Return the meat to the pot along with all the reserved marinade. 
Add in 2 ½ cups water then bring to a boil. Lower to a simmer and cook, stirring ocsaionally, until the pork is tender. Season with more vinegar and salt if desired.
Serve with Basmati rice, garnishing with fresh cilantro and thinly sliced serrano chilis.