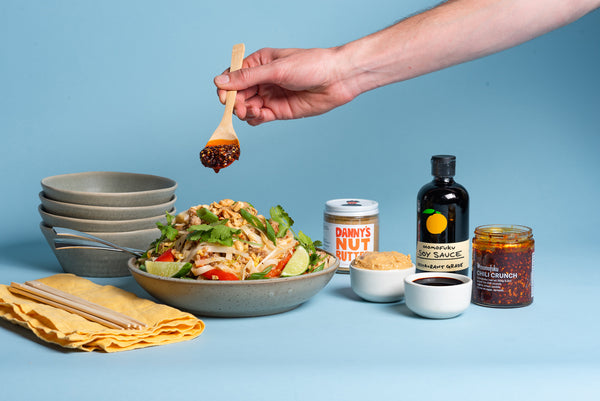 Heritage Pad Thai Dinner Kit
A new dinner kit is here, Heritage Pad Thai! A stir fried favorite of ours, pad thai is tangy, sweet, and satisfying. Your choice of heritage ground turkey, Wagyu beef, Dorset Horn lamb, or Berkshire pork. The kit includes some essential ingredients we sourced from producers we admire — Peanut Butter by Danny's Nut Butter, Rice Noodles by Erawan Thai Cuisine, Soy Sauce, and Chili Crunch by Momofuku.
In Your Kit:
16 oz flat rice noodles
1 lb ground Heritage meat
Momofuku Soy Sauce
Momofuku Chili Crunch
Danny's Nut Butter
You Will Need:
3 Tbsp fish sauce
5 Tbsp light brown sugar
2 Tbsp rice wine vinegar
3ea garlic cloves, minced
2ea whole eggs, beaten
1 cup bean sprouts
1ea bell pepper, sliced thinly
3ea scallions, chopped
1/2 cup dry roasted peanuts
peanut butter
1 bunch fresh cilantro, chopped
2ea limes, cut into wedges
Preparation:
In a wok or medium sauce pan bring 6 cups of water to a boil. Pour boiling water over the rice noodles, stir briefly and let soak for 7-8 minutes until noodles are completely flexible but toothsome and al dente. Move to a colander and rinse under cold water.
In a small bowl, whisk together 1 Tbsp soy sauce, 2 Tbsp nut butter, 1 tsp chili crunch along with fish sauce, light brown sugar, and rice wine vinegar until the sugar is fully dissolved.
In the wok or a large frying pan, cook the ground meat over medium-high heat until evenly browned. Remove from pan and drain out the fat, reserving and adding 2 Tbsp back in to cook your vegetables.
Increase the heat to high, then sauté garlic, peppers and scallions until brightly colored and slightly softened, moving the vegetables to the side to cook your eggs. Pour the eggs inside this well and stir gently, scrambling them until mostly cooked. Return the meat to the pan, then add the noodles, sauce, bean sprouts, and half the peanuts, Toss everything carefully to combine.
Top your finished dish with sliced scallions, peanuts, cilantro and serve with lime wedges. Bring the chili crunch to the table to customize the heat!