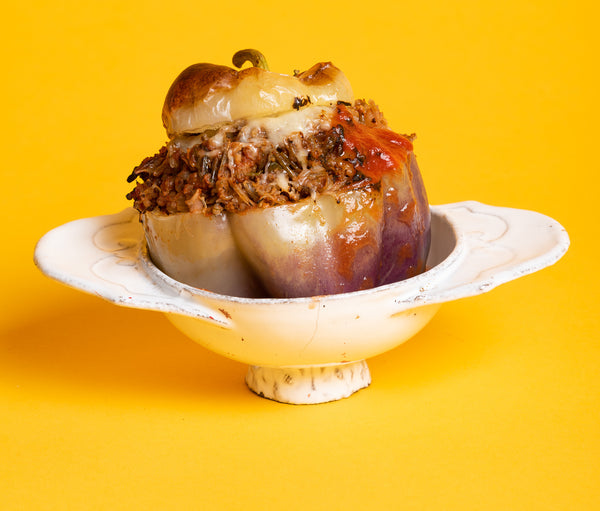 Yemista: Stuffed Mediterranean Peppers Recipe
One of our favorite things to stuff is a beautiful, juicy, large bell pepper. The pepper is moist and adds amazing flavor to so many of our ground meats from lamb, hogget and mutton, to ground pork, beef and goat! We like to do it the way they do in Greece, stuffed with rice and your favorite herbs and spices, and baked. The best part about the stuffed pepper is that your get your vegetable and protein in each and every bite!
Ingredients:
1# ground meat of your choice but we prefer lamb

Salt and pepper

1 medium onion, diced

1 leek, thinly sliced, tough green tops discarded 

1 clove garlic, minced 

1 tablespoon tomato paste

¼ cup red wine

2 cups Ojibwe wild rice 

1 cup broth or water plus more as needed

1 (28oz) can crushed tomatoes

1 cup tomato puree

1 bunch parsley, picked and chopped

3 sprigs mint, picked and chopped

3 sprigs oregano, picked and chopped

1 bunch dill, chopped

½ cup grated Parmesan, kefalotri or Narraganset med grilling cheese

6 large bell peppers
Preparation:
Heat a large Dutch oven over medium high heat. Drizzle in 2 tablespoons olive oil and then brown your ground meat, seasoning with salt and pepper. Once meat is browned, use a slotted spoon to remove to plate. Drain most of the fat from the pot, leaving about 2 tablespoons to cook the vegetables.
Add onion, leeks, and garlic to the pot. Cook, stirring frequently, until softened, 8-10 minutes. Add in tomato paste and cook for 1 minute. Deglaze the pot with the red wine and simmer together until the wine is reduced by half, about 10 minutes. 
Return the meat to the pot along with the rice, water or broth, and crushed tomatoes. Bring to a boil then reduce to a simmer and cook together for about 10-15 minutes, until the rice is cooked slightly but not completely. Add in the extra water or broth if the mixture gets too thick and starts to stick to the bottom of the pan.
Stir in the cheese and chopped herbs, remove from heat and set aside. 
Taste and season with more salt and pepper as needed.
Meanwhile, wash your bell peppers and slice the tops off approximately ¼ inch down from the top, removing the stem and top in one piece and reserving for later. Remove the ribs and seeds from the inside of the peppers and discard.
Stuff your peppers with the meat and rice mix. Don't be afraid to over stuff as the excess will fall into the sauce. Pour tomato puree and water or broth to the bottom of a casserole dish and arrange the peppers standing up in the sauce.
Place the pepper tops back on, drizzle with olive oil and cover with foil or lid and bake for 30-45 minutes or until the peppers are soft and cooked through.
Increase oven temperature to 375 degrees F and remove lid or foil and cook another 20-30 minutes until charred slightly and withered. 
Remove from oven and let cool for a few mins. Serve with some of the tomato sauce from the bottom of the casserole dish. Serve with olives, your favorite feta, or other mezze.