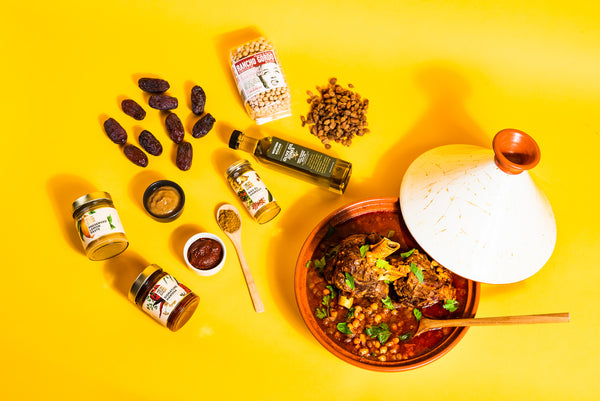 Heritage Lamb Shank Tagine Dinner Kit
This is a Heritage take on the classic dish named after its earthenware cooking vessel. Tagine, a slow-cooked dish, has roots in the Berber culinary tradition where recipes date back to the 9th century. Shop the kit here.
Enjoyed throughout North Africa, from Morocco to Egypt, the ingredients are superbly cooked by the unique, cone shaped design of the lid which returns all the condensation to the bottom of the tagine. Adding cold water into the specially designed well at the top of the lid keeps everything tender, but don't worry, you can also use any Dutch oven for this delicious stew! 
Don't worry - no need for this special tool. You can also use a dutch oven! Each kit comes with a recipe card and every ingredient you need (except the fresh produce) sourced from some of our favorite food businesses.
Included Ingredients:
Additional Ingredients:
1 medium onion, diced
1 tbsp tomato paste
½ cup parsley, chopped for garnish
Recipe:
Allow time to bring lamb shanks to room temperature and season liberally with salt, pepper, and NYSHUK Ras el Hanout. Set aside.
Place chickpeas in a large stock pot or Dutch oven, cover with water, and bring to a boil. Lower to a simmer and cook for 45 minutes, stirring occasionally. Drain and set aside.
Preheat oven to 325 degrees F.
Heat a Dutch oven or heavy bottomed pot over medium-high heat. Add in olive oil and begin searing the lamb shanks until browned evenly on all sides. 
Once all shanks are browned, lower heat to medium, and sauté onions until translucent, about 10 minutes. Add tomato paste and cook for 1 minute. Add preserved lemon and harissa and cook for 30 seconds, stirring, to blend flavors.
Add shanks and chickpeas back to the Dutch oven and cover with water. Bring to boil and then lower to a simmer. Cover with lid and place in preheated oven for 1 ½ hours or until chickpeas are tender.
Remove the pot from the oven. Stir in the raisins and dates and salt to taste. Place back in the oven without the lid and cook another 20 minutes. The lamb shanks should be tender but still clinging to the bone a bit.
Remove, garnish with parsley, serve and enjoy! Sprinkle more harissa if desired for more heat. Pairs great with rice or cous cous.