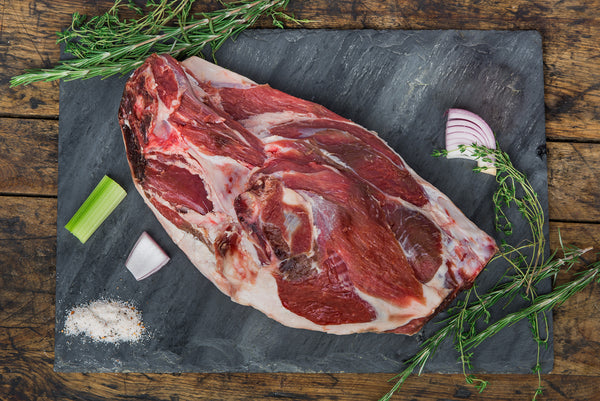 Heritage Classics Recipe: Leg of Lamb
Ingredients:
1 leg of lamb (5-6 lbs)
Tunis, Dorset Horn, or Navajo Churro
Omnivore Salt
2 tbsp. cooking oil
2 red onions, sliced
5 garlic cloves, crushed
1 carrot, 1 inch pcs
1/2 celery bunch, 1 inch pcs
1 thyme bunch
1 rosemary bunch
Procedure:
Preheat the oven to 475ºF. Let the leg of lamb come to room temperature and season it liberally with Omnivore salt. Add cooking oil to a hot pan and carefully place the fat side of the leg down in the pan. Allow the fat to brown and slightly render out. Once the surface of the leg is golden brown, remove it from the pan and hold it off to the side.
Re-heat the same pan and sweat the onions and garlic in the lamb fat. Add the carrots and celery, continue to cook for 5 minutes. Meanwhile, create a bed of thyme and rosemary on a cooking rack in a roasting pan. When ready, pour the cooked vegetables on the herbs and carefully place the leg of lamb on top of the bed. Place the roasting pan in the oven and cook for 20 minutes.
Reduce the heat to 350ºF and roast until done. The USDA recommends lamb be cooked to an internal temperature of 145ºF, our chefs recommend removing from the oven at 135ºF as the temperature will continue to rise after coming out of the oven. Allow the leg to rest for 15 minutes before carving.
Slice, serve, and enjoy!
Serves 8-12 people
The post Heritage Classics Recipe: Leg of Lamb appeared first on HERITAGE FOODS USA.