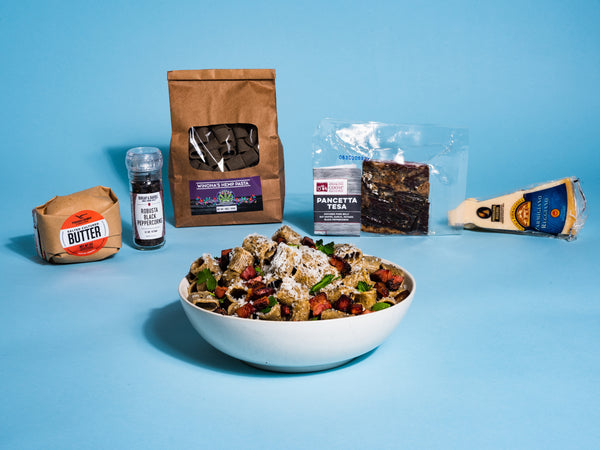 Heritage Cacio e Pepe and Pancetta Dinner Kit
Introducing a new dinner kit! Cacio e pepe with pancetta is an easy and quick weekday meal. All in, the dish takes less than a half hour to produce — everything can be prepared while the pasta is boiling. But it takes years to perfect and every time you make it, the dish will taste slightly different, that is until you become a master!
Cruz Goler was the head chef at Lupa restaurant in New York City for more than six years, yet still claims he cannot make the restaurant's signature cacio e pepe pasta perfectly — it's too simple, there are only four ingredients, the margin of error is too small. Striving for perfection is his noble purpose!
The art in making cacio e pepe comes in being able to emulsify the butter and cheese in the pasta water just right to make a sauce that is creamy yet light. As the pasta cooks it releases starch into the cooking water, which is the base of the sauce — getting the starch amount perfect, and picking the exact increments of the other ingredients is an art.
This kit includes a recipe card and these ingredients:
Hemp Pasta,

 

one 1lb bag, the hemp was farmed by

 

Winona's Hemp & Heritage Farm

In Anishinaabe prophecies our time is referred to as the time of the 7th fire, a time when our people will be given the choice between the green path and the scorched path. We have walked down the scorched path of fossil fuels, and GMO's, and monoculture agriculture for too long. Winona's Hemp & Heritage Farm is moving forward with ancestral wisdom to create the regenerative economies our children deserve to inherit. They are working with tribal and non-tribal producers to create a value-added hemp industry. The industry will focus on hemp fiber for paper, clothing and hemp food products. It's time for us to move forward towards a green future. It's time for Winona's Hemp! Ingredients: Organic durum semolina flour, organic hemp flour and water. 

Black Peppercorns, one 1.8 oz grinder-top jar by Burlap & Barrel
These fabulous black peppercorns are grown in Ea Sar, Vietnam using organic practices and harvested only when the peppercorns are ripe. The peppercorn vines are a companion crop to the Robusta coffee plants, providing shade for the coffee. This new harvest has the same fruity, herbaceous, and some might say "robust" flavor that first captivated us!

Parmigiano Reggiano,

 

one 8-10 oz piece
The King of Italian cheese — aged 24 months to sweet and nutty perfection. Raw milk, produced in Italy. Wrap remainder tightly, store in the fridge for up to 90 days.
Heritage Pancetta, one 8 oz piece by

 

Smoking Goose Meatery
Pancetta is an Italian version of bacon made by dry curing pork belly with salt, pepper, and spices. A myriad of traditional dishes call for rendering chunks or slices of pancetta as the base for a sauce or a crispy garnish but a version as fine as Chris Eley's of Smoking Goose can be enjoyed in many more ways.
Ploughgate Salted Butter, 1 lb, by Ploughgate Creamery in Vermont

Ploughgate Creamery cultured butter is made from fresh Vermont cream sourced from the Monument Dairy in Weybridge, Vermont. The cream is cultured for 24 hours before being churned, giving the butter a distinct tangy and nutty flavor. The butter is then kneaded by hand to expel more moisture and to work in flakes of sea salt that burst with flavor when the butter hits your palate. The sweetness of the cream shines through, creating an elegant and balanced salted butter!
Preparation:
Cook Time: 30 minutes. Serves: 4 people.
Toast the peppercorns in a pan over medium heat, stirring until fragrant, taking care not to burn them. Remove and coarsely grind in a mortar and pestle or spice grinder and set aside 2 tablespoons for the recipe. Since this recipe calls for a large amount of coarsely-ground peppercorns, we find it easiest to use a mortar rather than the grinder attachment on the jar of peppercorns.
With a fine-edged grater like a microplane, grate 1 cup of Parmigiano Reggiano and set aside.
Bring a large pot of salted water to a boil. Add pasta and cook until al dente, 10-12 mins.
While the pasta cooks, heat a large skillet over medium heat. Cook the pancetta, stirring frequently, until much of the fat has rendered out and the pancetta looks crispy, 8-10 minutes.
Scoop the pieces out onto a paper-towel lined plate to drain and reserve the skillet for building your sauce.
Drain the pasta and reserve 1/2 cup of hot pasta water.
Add the pasta water to the skillet and bring to a boil. Add black pepper and slowly whisk in butter until emulsified. Reduce heat to a simmer, add the pasta and toss with grated Parmigiano Reggiano. Serve in bowls and top with crispy pancetta, more freshly cracked pepper, and freshly grated cheese.