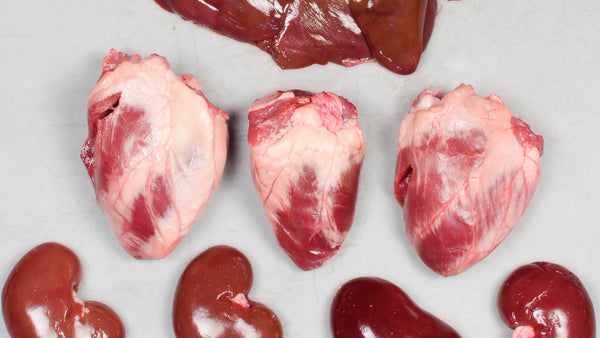 Grilled Lamb Hearts with Onion Relish
by Evan Hanczor of renowned Brooklyn restaurant Egg
Serves 4
Once you try these lamb hearts, you'll wonder why you ever paid top dollar for other cuts before. The firm, dense hearts stand up to a number of pairings, and this quick marinade and an easy, bright onion relish set these up for any kind of use. They shine as an entree over asparagus and grits or alongside potatoes and broccoli rabe, but my favorite way to eat them is to take the grilled hearts, slice them up, and mix them with a generous amount of the relish. Scoop that mix with some nice grilled sourdough or flatbread, maybe a little pecorino grated on top or a touch of hummus or romesco underneath, and you're good to go. Serves 4 as an entree and at least 6-8 as an appetizer.
For the Relish
Ingredients:
3 red onions or a large bunch of spring onions, finely julienned or sliced (if you want to char half of the onions on the grill or in a pan before slicing, that's a pretty delicious move, but I recommend leaving at least some raw to get the kind of pungency that works well in this relish)
1 jalapeno, seeded & very finely sliced
1 teaspoon salt
1 teaspoon sugar
1/2 teaspoon black pepper
Juice 1 lemon or lime
2 tablespoons red wine vinegar or cider vinegar
1/4 cup chopped herbs (I like cilantro and parsley)
2 tablespoon olive oil
2 anchovy fillets, chopped (optional, if you want to amp the funk)
Preparation:
Mix the thinly sliced onions and jalapeño with the salt and sugar and let sit for 5 minutes. Mix up the rest of the relish dressing and combine with the marinated onions, mixing to combine evenly. Adjust seasoning to taste—it should be bright, pungent, and herby.
For the Hearts
Ingredients:
4 lamb or goat hearts, trimmed of gristle and sinew inside and out
2 tablespoons olive oil
1 garlic clove, smashed or chopped
A little herb, if you have it (bit of thyme, rosemary, parsley) chopped
Pinch of salt and pepper
Preparation:
Ensure hearts are well-trimmed, but don't obsess—a little fat here and there is no problem. Marinate hearts in oil, garlic, herb, and salt and pepper mixture for at least a half hour, as long as a couple days. Heat a cast-iron pan till 'ripping' or fire up a grill. Grill the hearts for about 1-2 minutes on each side, seasoning with a bit more salt, until medium-rare. Rest for a few minutes before slicing.
Chef Evan Hanczor The restaurant critics at The New Yorker and New York magazine recognize that Evan Hanczor's commitment to local and heirloom ingredients and his strongly held values about sustainable agriculture are the foundation of his contemporary American cooking that puts him and his restaurant Egg in the center of the Brooklyn culinary renaissance. And while Hanczor is famous for the brunches he serves at Egg, he was equally celebrated for the sophisticated, seasonal farm-to-table food he prepared at Parish Hall and now reprises in the evenings at Egg.