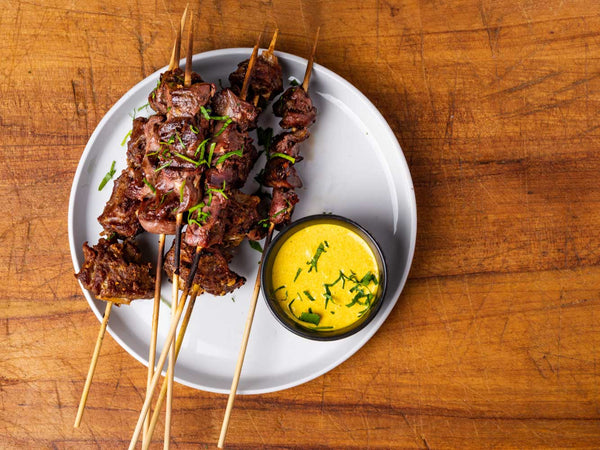 Grilled Turkey Giblet Anticuchos with Aji Pepper Sauce
Not everyone thinks nose-to-tail when it comes to poultry, but this recipe uses every last bit of our heritage turkey. Traditionally made with beef heart, today we are preparing this classic Peruvian dish that showcases the country's delicious native smoky pepper, with our heritage turkey giblets.
Ingredients:
Neck and giblets from one turkey (neck, heart, gizzard, liver)

1 quart of chicken or turkey stock

1 head of garlic 

1 bay leaf

1 teaspoon of black peppercorns

½ cup olive oil

½ cup white wine vinegar

1 teaspoon toasted and freshly ground cumin 

1 teaspoon minced garlic

4-6 bamboo skewers, soaked in water

½ cup of aji peppers or aji paste in a jar if you can't find fresh peppers

2 egg yolks

3 cloves of garlic

2 tablespoons white wine vinegar

1 teaspoon mustard

1 cup extra virgin olive oil

1 tablespoon water, as need to thin sauce

½ cup chopped cilantro, stem included
Preparation:
Remove giblets from the turkey cavity and pat dry with paper towels.
Chop the turkey neck into bite sized pieces and season with salt and pepper.
In a dutch oven over medium high heat add 2 tablespoons of olive oil and sear turkey necks until brown. Deglaze with chicken or turkey stock, bring to a boil, reduce to a simmer, and cook for about 30-45 mins. Remove, drain and set aside.
Mix together olive oil, vinegar, garlic, and cumin and season with salt.
Dice the liver, heart, and gizzards into bite sized pieces and skewer on the bamboo sticks, alternating pieces of liver, heart, and gizzards. Skewer the necks separately. Place in a baking dish and cover with marinade. Let sit for at least an hour or overnight.
Meanwhile, in a blender add aji paste or fresh peppers(deseeded), egg yolks, garlic cloves, mustard, and vinegar. Turn on low speed and drizzle in, drop by drop, olive oil until an emulsion starts — eventually build up to a steady stream turning the blender up to high speed. Add a tablespoon of water to adjust the consistency to slightly thinner than mayonnaise, and set aside. 
Preheat a charcoal grill to medium-high heat and sear the necks until brown and crispy, set aside. Grill the Liver, heart, gizzard, and skewers for about 4-5 minutes per side.
Serve on a plate with a bowl of the aji pepper sauce to dip your skewers into. Garnish with chopped cilantro.