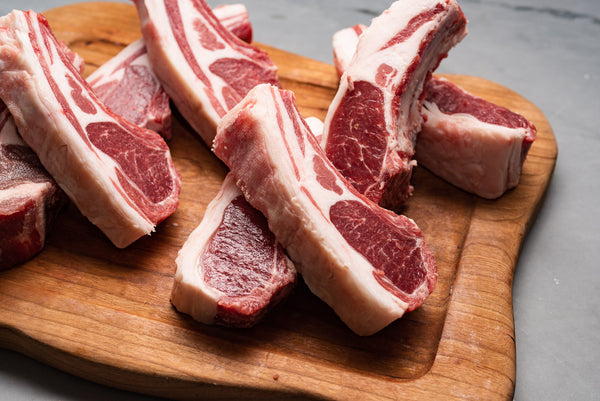 Garlic Crusted Rack of Lamb + Caramelized Potatoes + Mint, Fennel Frond & Cilantro Chutney
By Pervaiz Shallwani
When I want to cook a statement meal, one worthy of a big celebration — or a week-night meal with my wife after the kids have finally gone to bed — a rack of lamb is near the top of my arsenal. 
For those who are about to say "bye, lamb is gamey" (good lamb is not), hear me out: A well-crusted rack equals swagger that is every bit as elegant as a standing rib roast, but one that can be cooked in a fraction of the time. 
It's the piece of meat "fancy" chefs like to showcase on fancy menus looking svelte on the plate with their long, thin bones Frenched clean. 
When shopping for a rack, what you buy varies, from ones that are already cleaned by a butcher, to ones that are cleaned and marinated to cook, to ones that come completely untouched. 
The Heritage ones I have played with, are the latter, an unadulterated piece of meat with endless possibilities. Honestly, that's fun, a rack in its most natural form. Time to put on the chef boy hat, pull out the sharp knife and carve away the excess fat and connective tissues that will leave you with pieces that you'll turn into lamb fat for roasting vegetables and a leftover slab for lamb bacon or, even better, lamb chicharrones.
With any great showpiece, if the meat is good, what you add should complement or enhance the flavor, not overpower it. I find garlic is classic, and I always have fennel and coriander seeds lying around because they are so versatile, while black pepper adds just enough heat. The time it takes the lamb to roast is perfect for roasted and melty potatoes, but those potatoes are even better when married with onions and fennel. And, yes, mint may seem cliched, but its freshness complements lamb so well. Transformed with acid, more herbs and some olive oil, to me, the only limit is the limitations you set on yourself. 
Ingredients:
Big crystal kosher salt

1 teaspoon toasted coriander seeds

1 teaspoon toasted fennel seeds 

½ head of garlic

1 teaspoon fresh crushed black pepper

1 tablespoon of olive oil
Caramelized Potatoes, Onion, and Fennel
2 large potatoes, halved and thinly sliced

1 small onion, halved and thinly sliced

1 small fennel bulb, halved and thinly sliced
Mint, Fennel Frond, and Cilantro Chutney
1 garlic clove

1 lemon, zested and juiced (reserve zest for garnishing)

1 teaspoon salt

1 cup packed mint

Fennel frond 

½ cup cilantro packed

¼-½ cup of olive oil
For Serving
Fresh cilantro, mint, fennel fronds

Zest from lemon above
Preparation:
Fully defrost lamb in its package. Once defrosted, remove and dry thoroughly with paper towels.
While the lamb is still cold, with a sharp knife, clean the rack of lamb by cutting off the top layer of fat and connective tissue, leaving the second layer of fat intact. We find this technique from Serious Eats is a good primer.
From there, flip the rack and slide the knife along the top of each bone. Once done, at the top of each bone, use thumbs to press flesh away. From there, use fingers to gently pull bone away from flesh. Once all the bones are exposed, find the eye of the loin and cut carefully along the eye to remove the exposed piece. Reserve that to make lamb bacon or lamb chicharrones.
Cross hatch the fat cap, carefully using the tip of the knife to create a checkerboard-like pattern of lines about 1 inch apart. Make sure not to cut through the fat to the meat.
Salt liberally with kosher salt and set aside while you make the crust. This can be done up to two days in advance. If refrigerating, make sure to remove the rack at least 30 minutes before cooking.
When ready to cook the lamb, set oven to 450 degrees.
Toast coriander and fennel seeds in a hot saute pan over medium-high heat for about 1-2 minutes until fragrant. Transfer to mortar and pestle or spice grinder, and grind until coarse.
Mash the garlic in the spice grinder or chop finely and mix thoroughly with toasted spices, black pepper, and olive oil. 
Heat a heavy bottomed pan, large enough to hold the rack of lamb, until smoking. Place the lamb fat side down in the pan, pressing down gently with tongs or a meat fork until a light brown crust forms. 
Continue browning all sides and then remove rack from pan to a plate. Spoon out some of the fat, leaving about 1-2 tablespoons in the pan and add potatoes, onions, and fennel in a flat layer. Salt and let them brown while you schmear the garlic mixture onto the lamb. Using a spoon, cover the fat side with the garlic mixture, making sure to get into the cross hatched crevices. 
Toss the potato mix in the pan and form it back into a flat layer. Place the rack on top of the pan and transfer pan to the oven. Cook lamb until the internal temperature reaches 135 degrees, about 20 minutes. 
While the lamb is in the oven, make the chutney. Add garlic clove, lemon juice, and salt to the bowl of a food processor and run until the garlic is pulverized. Scrape down sides and add mint, cilantro and fennel fronds and run until incorporated. Scrape down sides and while running, add olive oil until you have a runny sauce. Adjust salt, lemon juice, and olive oil to your taste as needed.
When lamb is done, let it rest at least 5 minutes, and ideally 10-15 minutes, before carving. Carve chops into double chops.
To serve, spoon potato mix onto a plate, place lamb near the edge and top with chutney. Garnish with lemon zest and fresh herbs.
Pervaiz Shallwani is an award-winning journalist and trained chef based in Brooklyn, where he runs a hot dog popup called "Chaat Dog" — a mashup of his Chicago upbringing & Pakistani heritage — and a Substack called "Stinky Lunch Kids Strike Back: The story of American food." His approach to cooking: learn the rules and then use that knowledge to break them. He promises to eat anything (edible) at least once.