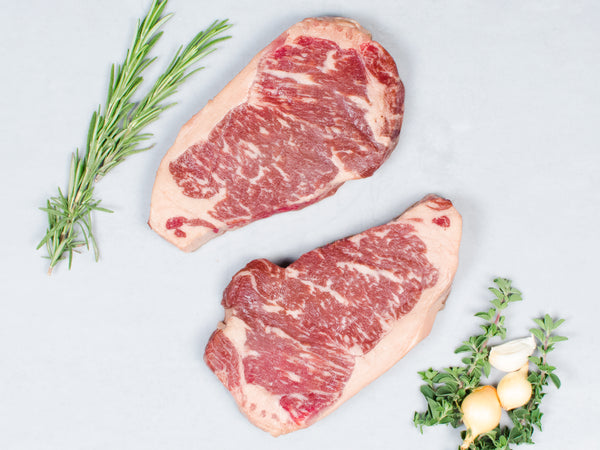 Fennel & Coriander Crusted Strip Steak
By Pervaiz Shallwani
Confession: I don't like to do much to my steaks. Good meat doesn't need it. Over the years, I have even started to forgo adding pepper to them.
Simply dry the steaks, salt, let rest for a day or two if possible, bring to room temp before cooking, and sear in a very hot pan. If the steak has a nice thick cap of fat on one side like a ribeye or strip steak, even better. Start it fat side down to render the fat, and cook the steak in its own fat. Finish by basting it in butter, garlic, and thyme. Carve and serve with pan juices or a bright chimichurri to cut some of the fat.
But we have to shed our comfort zone sometimes, so out came the black pepper along with toasted coriander and fennel, which I have been playing with a lot of late. What we got was one hell of crust: fragrant, smokey, with a hint of spice. Finish with garlicky pan juices, some lemon zest, fresh chopped thyme, and the gentlest squirt of lemon juice to cut the fat.
Note: the fat cap on the steaks can vary, so use as much or as little of the oil as needed.
Ingredients:
1 pack of strip steaks

Kosher salt 

1 tablespoon coriander seeds 

1 tablespoon fennel seeds

1 teaspoon fresh pepper or several turns or a pepper grinder

1 tablespoon of neutral oil such as grapeseed 

2 tablespoons of butter 

2 cloves of garlic smashed, leave skin on

Several sprigs of thyme, plus about a teaspoon chopped to garnish 

1 Lemon, zested and cut into half

Large crystal sea salt
Preparation:
Fully defrost steaks in their bag. Remove and dry thoroughly using paper towels. Place steaks on a wire rack lined with a sheet pan, and dry brine by liberally salting all sides.
Let rest while you prepare the spice mix, or place in the fridge up to 48 hours in advance, to allow the steak to dry age and form a better crust when you cook it. If refrigerating, remove about an hour before cooking to allow steaks to come to room temperature.
In a dry skillet over medium-high heat, toast coriander and fennel seeds over for about 1 to 2 minutes until fragrant. Transfer to mortar and pestle or spice grinder, and grind until coarse. Mix with pepper and sprinkle on all sides of the steaks. Gently press the spice mix into the meat.
Turn an oven to 350 degrees.
Over medium-high heat, warm a heavy bottomed fry pan (preferably a cast iron or carbon steel if you have one) large enough to hold both steaks without crowding them, or use two pans or cook one steak at a time. 
Once the pan starts smoking, place the steaks in the pan with the fat cap side down, using your hands, tongs or a meat fork and a fish spatula to hold the steak in place and gently pressing down to make sure the entire fat cap is touching the pan. Hold for about one to two minutes until a nice brown crust has formed and the fat has started to melt in the pan.
Continue to sear all sides of the steak in the fat that has melted in the pan, making sure to gently press down to create a crust on the steak. If there is not enough fat, begin adding some of the oil, a little at a time. Once all the sides are crusted, let the steak fall flat in the pan, again using the spatula or your hands to gently press into the pan. 
Cook for another two minutes and flip the steak, again making sure to gently press down. Cook another minute and add butter, garlic, and thyme sprigs. Use a spoon to baste the steak with the melting butter.
Check the internal temperature of the steak with a meat thermometer. Medium rare is 135 degrees. If the steak needs to still cook, place it in then oven, checking every two minutes until the meat has reached desired temperature. 
Remove steaks from pan to a cutting board and let rest for about 10-15 minutes to allow juices to evenly re-distribute before cutting. Using a very sharp knife, carve the steak against the grain, drizzle with juices from the pan, and sprinkle with large crystal sea salt and zest. Serve with halved lemon. 
Pervaiz Shallwani is an award-winning journalist and trained chef based in Brooklyn, where he runs a hot dog popup called "Chaat Dog" — a mashup of his Chicago upbringing & Pakistani heritage — and a Substack called "Stinky Lunch Kids Strike Back: The story of American food." His approach to cooking: learn the rules and then use that knowledge to break them. He promises to eat anything (edible) at least once.