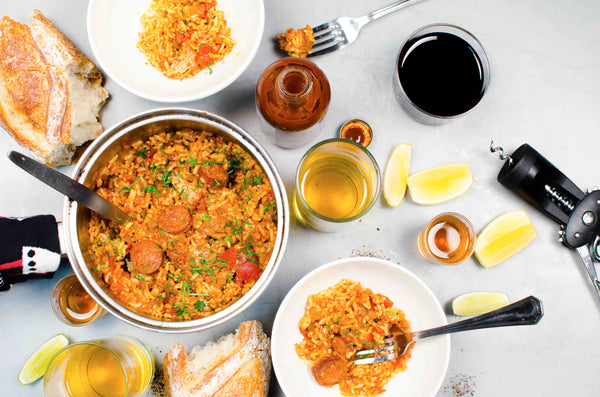 A Mardi Gras Favorite: Jambalaya featuring Heritage Pork Andouille and Tenderloin Medallions
Mardi Gras is synonymous with New Orleans for many folks, as it is a long standing tradition and point of pride for the city. Mardi Gras is New Orleans' own version of the global celebration of Carnival.
Heritage Foods has some incredible offerings to celebrate Fat Tuesday, and we are excited to share them with you, along with a great recipe idea for deliciously tempting and authentic New Orleans cuisine. Celebrate Mardi Gras with us!
Here is our own recipe for a traditional New Orleans dish, Jambalaya. Our version uses two of our amazing heritage pork products, andouille sausage and tenderloin medallions.
Jambalaya with Andouille Sausage and Tenderloin Medallions
1 pack (12 oz) andouille, sliced into 1 inch rounds

1 medium onion, diced

4 stalks celery, diced

1 small green bell pepper, diced

4 cloves of garlic, minced

1 tsp Cajun seasoning

8 ripe tomatoes, cored and peeled, or 1 (28 oz) can of whole tomatoes

1 qt chicken stock

2 cups white rice, cooked
Heat canola oil in a hot pan. Once the pan is lightly smoking, sear the andouille rounds until they are cooked and browned. Remove the andouille from the pan.  
Season the pork tenderloin medallions with salt and pepper. Sear the pork in the same pan until they are browned on all sides, about 8 minutes total. Set aside.
In a Dutch oven or any small stock pot, sweat onions in canola oil over medium heat. Season lightly with salt. Once translucent, add the celery and sweat. Add the green bell peppers and garlic and continue to sweat. Add a little more salt for seasoning. In a separate pot, heat the chicken stock until boiling.
Once the vegetable mix is soft, add the tomatoes and break them up as they are heating up.  When the tomatoes are fully incorporated, mix in the Cajun seasoning.  Add the meat. Slowly pour the boiling chicken stock into the mix and continue to cook for at least twenty minutes or until the liquid reduces by half. The stew should be thick. Adjust seasoning by adding salt to your liking. Mix the rice directly into the Dutch oven and serve.
You could also try our new Shank for Two - our Pre-Seasoned, Oven-Ready, Pork Shank For Two is silky smooth, hearty, and full-bodied. The skin crisps to a crunchy, candy-like consistency. 
A newly popular dish on restaurant menus, this is how we prepare it:
Lay the shank on its side in a roasting pan. Cook at 420°F for 40 minutes, 20 minutes on each side. Turn the oven down to 275°F and cook for two more hours, flipping the shank halfway through. Peel the skin off easily with a serrated knife, and fry it in a hot pan with oil for 2-3 minutes flipping often (or broil on low for 5-10 minutes) until crispiest.
Serve the Shank for Two whole with the meat falling off the bone and the crispy skin on the side which adds a delicious, crunchy texture.

Or pull the meat off the bone and cook it with beans, for example. Serve with the crispy skin sprinkled on top for a multi-sensory taste experience!